Imperial Sand Dunes Recreation Area - Glamis Guide
Chaparral Motorsports
|
October 31, 2011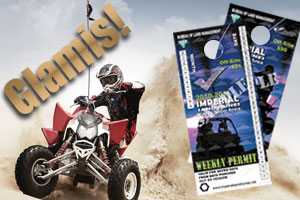 Chaparral sells Glamis Permits!
How much are they?
Season Permits: $90
Weekly Permits: $25
Who needs a permit?
One permit is needed per primary vehicle. A primary vehicle is any street legal vehicle used for transportation to the recreation site. A permit is required at all times while in the fee area and may be required to exit the area.
How long do I have to purchase a permit?
The permit is required immediately upon arrival to the recreation area.
Where does it apply?
The entire Imperial Sand Dunes Recreational Area and its 1 mile planning boundary.
For More Information Visit: Chaparral-Racing.com/Glamis-Pass
Glamis Rules... and some good ideas.
How to Stay Safe AND Legal At Glamis
Your OHV must be registered
Cal and AZ are okay. From another state? You may need to buy a temporary CA permit
Pack out all your trash
All are required to have a whip mast
with a red or orange flag
Be extra careful riding at night
15 mph speed limit
on sand highways (near Hwy 78, Gray Wells Road, Gecko Road)
No firewood with nails
Including pallets, etc.
Permits are required
Never ride alone at Glamis
Noise Emission
Offroad vehicles are limited to no more than 96 dbA if manufactured on or after 01/01/1986
No glass bottles
CA Vehicle Registration
Offroad vehicles owned by CA residents must be registered with the CA DMV and display a valid Vehicle Identification Tag
Always wear a helmet and eye protection
Environmental Damage
Tread lightly. Get a map and know what areas restrict the use of offroad vehicles