Tech Tips - Hour Meters: The Clock's Tickin'
Chaparral Motorsports
|
October 27, 2011
[mageProductLink sku="2205.0700" title=""]
[/mageProductLink]

What Time Is It? Time for You to Know!

Today's newer motorcycles and ATVs are highly sophisticated machines. Many have surprising amounts of computing power; that's needed to manage advanced fuel-injection systems. And dealer technicians can plug in diagnostic devices to read exactly what your vehicle has been doing.

But chances are, you don't have access to that information. In fact, if you ride a fuel-injected dirt bike or quad - even the newest ones - your ride might not have a fuel gauge, let alone an hour meter. For both four-wheel and two-wheel enthusiasts, knowing vehicle speed is fun. More importantly, tracking distance traveled, engine rpm, and engine operating hours can be vital for maintenance and for safety reasons.

A wide variety of easy-to-install computers are available to help your vehicle better communicate with you.

[mageProductLink sku="356-0789" title=""]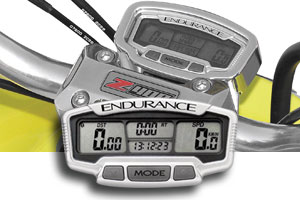 [/mageProductLink]

[mageProductLink sku="356-0789" title=""]Trail Tech Endurance Computer Kit[/mageProductLink]

This computer is a full-function dashboard for your motorcycle or ATV. It can replace a stock odometer on a dual-sport bike, for example, or can give your un-equipped dirt bike or ATV this vital tool. In fact, the Trail Tech unit can work on two different vehicles; just program in the unique wheel sizes, install the handlebar-mount kits and wheel sensors, and you have two speedos in one.

More than just a speedometer, this computer measures speed, distance, and engine hours. It has a stopwatch and clock, plus trip meter and adjustable reminders for oil changes and other maintenance. And the three-section screen gives you lots of data all at once. It retails for around $72. Call Chaparral's knowledgeable, friendly sales staff to order one for your bike or ATV.

[mageProductLink sku="356-0094" title=""]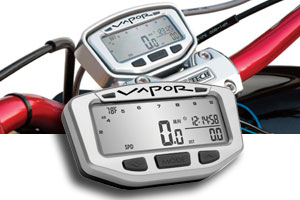 [/mageProductLink]

[mageProductLink sku="356-0094" title=""]Trail Tech Vapor Kit[/mageProductLink] for MC, ATVs and side-by-side vehicles

The Trail Tech Vapor kit is the ultimate on-board computer for nearly any vehicle you own. It measures and reports speed, distance, rpm and a variety of time functions, and also has sensors to report on engine operating temperature. The computer's tachometer can be programmed with dual shift light notifications.

A variety of operator-input settings help you track time and distance for racing or touring rides. It can easily replace a street bike's instrument cluster. And a billet housing is tough enough to withstand enduro rides and off-road activity. It has a backlit LCD display, and uses waterproof connectors for durability. The kit retails for around $120.

[mageProductLink sku="356-4716" title=""]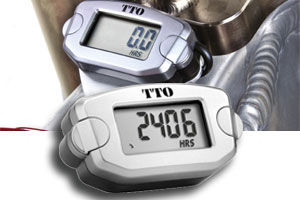 [/mageProductLink]

[mageProductLink sku="356-4716" title=""]Trail Tech TTO Tach/Hour Meter[/mageProductLink]

If you already suffer from information overload, and just want to know the basic info about your dirt bike or ATV, look at the TTO Hour Meter. You can simply stick this to your vehicle using the adhesive backing, or bolt it on for more security. Wrap the single wire around a spark-plug lead, and you'll know engine rpm and hours of operation.

It reads up to 20,000 rpm on any gas engine, including EFI four-strokes. The unit keeps track of total operating hours, though it's not resettable. It will track max engine rpm, and you can reset that.

This simple and compact unit sells for about $30.