Honda Crosstourer Will Be Available Next Year
Chaparral Motorsports
|
October 26, 2011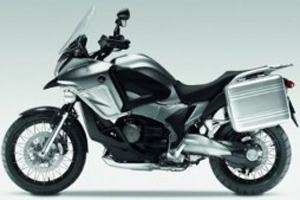 Honda recently announced that it will be bringing the Crosstourer concept motorcycle to production. The model was first unveiled at the 2010 EICMA Show as a concept, and the production motorcycle will be showcased for the first time at this year's EICMA Show in Milan.
The new bike is a hybrid adventure/sport bike, and it will be equipped with the same 1200 cc V4 engine found on the Honda VFR1200F, which gets up to 170 horsepower. Honda will offer dual clutch transmission on the new bike, which Popular Mechanics reports eliminates the need for a slipper clutch because it will always match the engine and rear-wheel speeds.
"The Crosstourer offers a high-level fusion of vibrant off-road styling, upright riding position, V engine power and dual clutch transmission that offers more direct power transmission and easy operation," said Yosuke Hasegawa, the leader of the new car's development team. "We are convinced that we have successfully brought out new value in what can be termed the true crossover concept."
The sporty touring motorcycle has a unique look for a new bike, with traditional wire-spoke wheels and a style that is a nod to the plastic-encased "crotch-rocket" as well as enough exposed engine parts that give it a vintage feel.