Lorenzo Recovering After Surgery
Chaparral Motorsports
|
October 21, 2011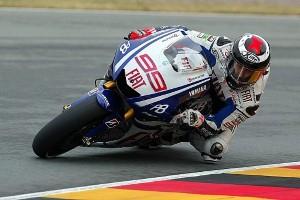 Jorge Lorenzo only had a slim chance of preventing Casey Stoner from clinching the 2011 MotoGP title this weekend, essentially needing to race perfectly the rest of the way to have any hope of winning the championship. Unfortunately for him, a crash during morning warmups not only ended his MotoGP championship dreams and basically gave the title to Stoner, but it also took off a chunk of his ring finger.
Fortunately, Lorenzo was able to have surgery to repair the damage done to his finger, and he'll eventually be good as new. He's already had the surgery and is now at home recovering. He'll miss this weekend's race in Malaysia, but may return in time for the last race of the year at Valencia.
"After the crash I was very worried that I would not have full feeling in my finger again," he told Cycle News. "After the excellent treatment I received, I have been assured I will have complete feeling in nerves and tendons. This gives me good confidence; I can't wait to get back on my M1 again."
Lorenzo also offered up his congratulations to Stoner, who clinched the title in his absence.
"Casey has had an incredible season with very few mistakes," he said. "He has always been very strong and consistent so it has been very difficult to beat him. Congratulations to him, he has been the best this year and deserves his second title."