Helmet Communicator Buyer's Guide
Chaparral Motorsports
|
October 21, 2011
Start with this question: With what, or whom do you want to communicate?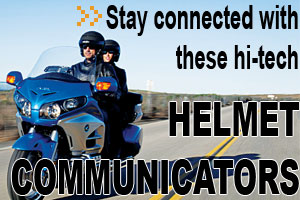 That sounds obvious, but when considering a helmet communication system, you need to give this some careful consideration. Complete this sentence - I want to:



Listen to my iPod without those uncomfortable earbuds and the white cords dangling from my helmet.

Hear - not just look at - the instructions coming from my GPS unit.

Communicate with my pillion passenger, without screaming or using hand signals.

Communicate with a rider on a different motorcycle or ATV.

Make a cell-phone call, because I just can't completely disconnect, I admit it.

Now that you've answered the question, know this: You can have it all! But if you don't really need all that, or if you don't want to pay for all that, we have the details on your options here.

Communication Systems from Cardo Systems
Scala Rider TeamSet Pro Communication System - $250
[mageProductLink sku="321-0143" title=""]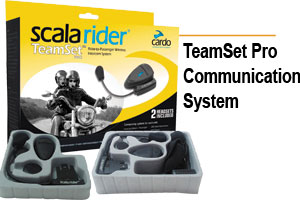 [/mageProductLink]Cardo Systems markets several communication systems under the Scala Rider family, all the way up to the feature-packed $490 G4 PowerSet system.

The [mageProductLink sku="321-0143" title=""]Scala Rider TeamSet Pro Motorcycle Intercom[/mageProductLink] does almost everything, communication-wise, but it's focused on rider-to-passenger communication. The system also delivers Bluetooth hands-free wireless communication to your mobile phone, and from your bike's Bluetooth-enabled GPS navigation system. It comes complete with two headsets, and each includes an MP3 input so individuals can plug into an iPod or other player.

As with most of these systems, the compact headset unit attaches to the outside of your full-face and 3/4-style helmet (special [mageProductLink sku="321-0114" title=""]half-helmet adaptors[/mageProductLink] are available), and is activated by easy-to-use buttons. Slim speakers mount inside the helmet.

The unit's intercom system has limited range, and is designed for use by a rider and passenger on the same motorcycle or two-passenger ATV. The TeamSet Pro also accepts voice commands for phone calls. Rechargeable lithium batteries provide up to 10 hours of talk time between charges.

Scala Rider G4 PowerSet Communication System - $490
[mageProductLink sku="321-0094" title=""]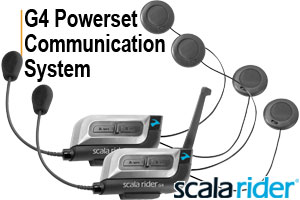 [/mageProductLink]The [mageProductLink sku="321-0094" title=""]Scala Rider G4 Powerset[/mageProductLink] offers all the features of the TeamSet, plus vehicle-to-vehicle communication at a range of up to one mile (using the flip-up antenna). Made mostly for street-bike riders, the G4 components are dust-proof and waterproof so even dirt bike and ATV riders can use this system.

The G4's four-way intercom allows communication between two vehicles and two passengers or three-way intercom among three separate riders. Plus, you can communicate easily with any other rider using the G4 system within range.

The G4 even includes an FM radio receiver with six-station memory. Both the radio and the MP3 connection will mute automatically for an incoming call.

Both the G4 and the TeamSet feature "automatic gain control" which adjusts the volume automatically as riding speed and ambient noise increase or decrease. You can also adjust the volume manually, and can adjust the AGC sensitivity to your preference.

Communication Systems for Torc Helmets
Blinc M2 Bluetooth Communication System - $139
[mageProductLink sku="389-blinc-m2" title=""]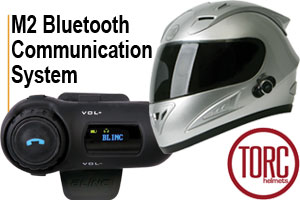 [/mageProductLink]Unlike many of the Scala Rider products, the Blinc communication devices are sold as individual units. Built specifically for Torc helmets, their focus is on an individual rider's communication needs, including connections to a variety of electronic devices.

The [mageProductLink sku="389-blinc-m2" title=""]Blinc M2[/mageProductLink] and [mageProductLink sku="389-blinc-m1" title=""]M1[/mageProductLink] are nearly identical; the M2 adds an FM radio tuner. Both systems feature a small electronic headset unit that attaches to any helmet, and is easy to move from one helmet to another. You then synch the Blinc to your cell phone, and your Bluetooth-enabled GPS or MP3 players. It will pair up with multiple devices. While you're listening to music or directions from your GPS, an incoming phone call will override any other communication.

The unit will connect with other Blinc units for rider-to-rider or rider-to-passenger communication. And the intercom is reported to work up to 1,500 feet. Power comes from a rechargeable lithium-ion battery said to deliver four hours of talk time and dozens of hours of standby time.

Communication Systems from J&M Audio
JMCB 2003 CB/Stereo/Intercom Audio - $360
[mageProductLink sku="011-jmcb-2003-du" title=""]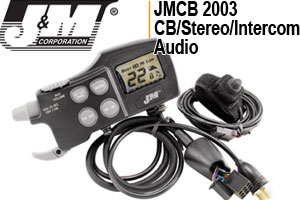 [/mageProductLink]J&M Motorcycle Audio products are different from the other wireless and helmet-mounted systems covered here. Like this one, many of the J&M systems mount to the left handlebar of your cruiser or sport-touring motorcycle. The company does also offer the Integratr portable system with a control unit that can clip on the rider or sit in a tank bag.

The [mageProductLink sku="011-jmcb-2003-du" title=""]JMCB 2003[/mageProductLink] handlebar-mounted unit is wired to the motorcycle's electrical system, and includes a [mageProductLink sku="011-lpcba-400" title=""]license-plate mounted antenna[/mageProductLink]. The rider then connects the headset - with in-helmet speakers and microphone - by wire to the bike-mounted unit. [mageProductLink sku="011-hs-ecd584" title=""]Headsets[/mageProductLink] are sold separately, and many helmet manufacturers - including Arai, Nolan and others - sell helmets with J&M-compatible headsets installed. There is even a new Bluetooth-enabled system in the [mageProductLink sku="381-3100" title=""]Arai RX-Q helmet[/mageProductLink], for example.

The J&M unit includes a 40-channel CB radio, plus NOAA weatherband audio and a rider-to-passenger intercom system. You can also connect to an MP3 or other audio device wired to the vehicle. The wired connection means outstanding sound control, plus no worries about battery life.

Communication Systems from Chatterbox
GMRS-X1 Communicator Kit - $290
[mageProductLink sku="011-1500" title=""]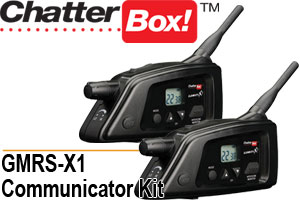 [/mageProductLink]The [mageProductLink sku="011-1500" title=""]X1 with Bluetooth[/mageProductLink] is Chatterbox's most-powerful communication transmitter. It will connect with your cell phone or any Bluetooth-enabled audio device, and features voice-activated or push-to-talk activation. The unit includes in-helmet speakers and a noise-reduction microphone designed to help eliminate interference from wind noise.

This Chatterbox unit allows connection to 38 different talk groups, and accommodates 15 unique communication channels. For more personal communication, the X1 will work at a range of up to five miles.

The X1's transmitter is compatible with full-face, 3/4-face and flip-up helmets. The built-in NI-MH battery is rechargeable and replaceable. The shock resistant casing makes it suitable even for off-road riding.