Cold Weather Gear Buyer's Guide
Chaparral Motorsports
|
October 20, 2011
Prepare For Winter With Cold Weather Gear
There is no bad weather - Just bad clothing.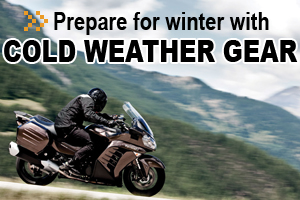 Even though I live in Southern California, I've ridden in a wide variety of weather conditions. Once, on a dual-sport ride in the mountains of south central Utah, I was surprised by a snowstorm - surprising because it was July. I wasn't prepared for that one, but I will be next time.

That Utah summer blizzard was uncomfortable, and potentially dangerous, but I made it through. The situation proved to me that you can ride an ATV or motorcycle - street or dirt bike - in just about any weather. You may not want to, but sometimes you might have to. If you must, better to be as comfortable as possible.

Here's how.

Prepare Yourself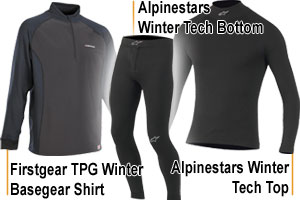 "When considering cold-weather riding, most people think first of heated grips," said Bob Mueller, a noted long-distance motorcyclist and Iron Butt Rally finisher, "but that doesn't help much if your core is cold. Heated grips might feel good at first, but you need to keep your big muscles warm, focus on a warm core."

Start with motorcycle-specific long underwear. [mageProductLink sku="2713.0203.1.2" title=""]Alpinestars Winter Tech Bottom[/mageProductLink] ($100) and [mageProductLink sku="2713.0202.1.2" title=""]Top[/mageProductLink] ($110) are designed by motorcycle riders for motorcycle riders. These garments are made from a special polypropylene fabric meant to withstand abrasion in case of a fall, and they use dual-density fabric in select areas for best warmth coverage. You can't say that about cheap long-johns from Wal-Mart.

The [mageProductLink sku="351-3732" title=""]Firstgear TPG Winter Basegear Shirt[/mageProductLink] ($70) looks far less like underwear and a whole lot more like a super-comfy and warm long-sleeve t-shirt. This garment gets a whole lot of warmth coverage from a front panel that resists both wind and water. The half-zip design acts as a temp adjuster, too. This item would fit comfortably under a jacket and as a warming layer.

"You want clothing that is windproof," said Mueller. "The hot ticket is to double-up on windproof garments." That makes this Firstgear shirt a great starter.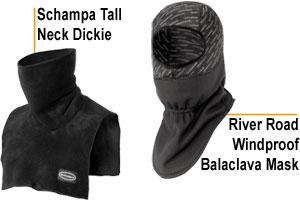 If "under-helmet" counts as underwear, then this item belongs here. The [mageProductLink sku="309-0955" title=""]River Road Windproof Balaclava Mask[/mageProductLink] ($23) may be your most-important winter-riding accessory - if your head and face get cold, it ain't no fun. To work well, a balaclava mask must fit well under your helmet, give plenty of visibility and space around your eyes, and use a long neck cover with some wind-protection. This one does all of that well.

"Snowmobilers love balaclava headgear for warmth," said Mueller, "but not everyone will find them comfortable. And you really want to cover your neck." The [mageProductLink sku="350-1144" title=""]Schampa Tall Neck Dickie[/mageProductLink] ($26) is a fleece pullover that can cover from your chin to your chest. "These also help," said Mueller, "because a lot of motorcycle jackets expose your neck."

Mueller also reminds riders to try the bicycle racer's trick of using an insulating layer of newspaper inside your jacket for that first cold morning ride.

Never In Blue Jeans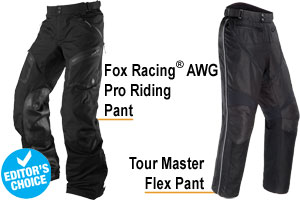 Fine, if you're riding a Honda Gold Wing, you turn on the seat heater and foot warmer, and wear your denims. But for the rest of us motorcyclists, blue jeans will leave you cold. "That's the common mistake," said Mueller. "On most motorcycles, your legs are exposed to a lot of wind, and you need windproof pants, not just jeans."

These [mageProductLink sku="04079-001" title=""]Fox Racing AWG Pro Riding Pants[/mageProductLink] ($200) would have been a big help on my snowy Utah ride. They're made of waterproof nylon and have well-protected zippered pockets. Leather inner knee panels kick up the durability. Adjustable leg gaiters help keep out cold and wet stuff. A [mageProductLink sku="10041-001" title=""]matching jacket[/mageProductLink] is available, too. This kit would work well for street or dirt riders.

Because weather changes, it's nice to have clothes that change, too. The appropriately named [mageProductLink sku="03-87401" title=""]Tour Master Flex Pants[/mageProductLink] ($180) give you flexibility to change when the weather does. Among a number of warmth features, the Flex pants use two removable liners. The first stage is waterproof and windproof; the second is insulated to provide extra warmth. These pants can be zipper attached to the [mageProductLink sku="03-8703-0905-04" title=""]Tour Master Flex Jacket[/mageProductLink].

Hands And Feet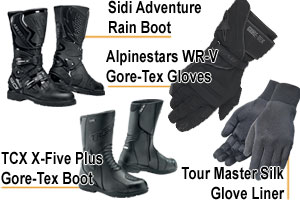 Focus first on maintaining warmth in the core of your body, and that will help keep warm blood circulating to your extremities. Then, find gloves and boots that will help keep your digits warm and dry.

Off-road and dual-sport riders should look at the [mageProductLink sku="043-2110-40" title=""]Sidi Adventure Rain Boot[/mageProductLink] ($375). This boot has all the features that serious off-roaders love about Sidi footwear. And inside there's a water-resistant membrane to keep your feet dry. Plus, these boots have a waffle-style sole like hiking boots, because sometimes when you ride, you want to walk, too.

For street riding, the [mageProductLink sku="046-7109g-x-40" title=""]TCX X-Five Plus Gore-Tex Boot[/mageProductLink] ($250) uses Gore-Tex-branded fabric inside to keep your feet warm and dry.

Gore-Tex is a great material for use in gloves, too, like the [mageProductLink sku="020-3310-0220" title=""]Alpinestars WR-V Gore-Tex Gloves[/mageProductLink] ($130). These gloves also feature a soft velour insulated liner. The long gauntlet-style design covers a jacket sleeve opening to help keep out cold wind.

Distance-rider Mueller recommends a thin glove liner made of silk to add an inner layer of warmth, and they can be removed if your hands get warm. The [mageProductLink sku="03-83330" title=""]Tour Master Silk Glove Liner[/mageProductLink] ($12) is an easy investment to make for warm hands. Mueller also recommends adding off-road style hand guards to your bike to block the cold winter wind. Many of these are made to protect off-road riders from tree branches. You can also look at the [mageProductLink sku="355-3164" title=""]National Cycle Hand Deflectors[/mageProductLink] ($80) that use a simple mount system and a clean-looking design.

High And Dry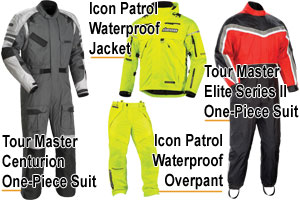 When it's hot, you add water to cool off. When it's cold, wet is the worst thing that can happen. Staying dry in the rain is vital to staying warm.

A good rain suit isn't cheap. The old "you get what you pay for adage" is meant for discussions about rain gear. Mueller has seen a lot of riders who carry a cheap rain suit, one that packs down small for transport in a tank bag. "But then you have to make sure to get the suit on before it rains," he said, and that seldom happens.

The [mageProductLink sku="038-2854-0011" title=""]ICON Patrol Waterproof Jacket[/mageProductLink] ($370) and [mageProductLink sku="038-2855-0072" title=""]Waterproof Overpant[/mageProductLink] ($250) is an excellent choice for serious riders. Both items feature all the armor protection a motorcyclist needs wrapped in abrasion-resistant nylon. They use waterproof zippers and "storm flaps" that cover those zippers. Plus, the pair is available in "Hi-Viz" greenish yellow because you're less visible and more vulnerable when riding in the rain. "You have to consider visibility issues," said Mueller. "Ask yourself, 'How easily am I seen by others?'"

Sometimes a one-piece suit is the best way to go for rain protection. The [mageProductLink sku="03-8713-0105-03" title=""]Tour Master Centurion One-Piece Suit[/mageProductLink] ($387) has several outstanding features designed to keep you dry. Our favorite? Perhaps the hood you wear under your helmet, forcing water to run away from you, not down your neck and back. It also uses long, waterproof zippers, reflective stripes, removable armor pads, and vents for modulating your temperature. It's available in black and a silver/gray combo.

Tour Master also makes the [mageProductLink sku="03-89250" title=""]Elite Series II One-piece Rain Suit[/mageProductLink] ($71), a more portable one-piece rain shell. It's available in several bright colors and packs away in a small pouch.

Electric Avenue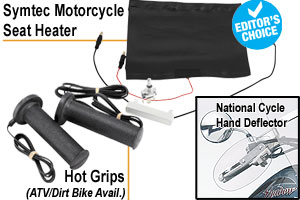 If you just can't get warm, maybe you need to plug in for assistance. Both Tour Master and Firstgear offer a variety of electrically heated gear, including gloves, pants, jackets and vests. Then, you dial the heat up or down using the small control units. This is a bit like heated seats in your car. Once you use them, you may like the comfort so much you'll become addicted!

Did I say heated seats? You can get one of those for your motorcycle or ATV, too. The [mageProductLink sku="317-9532" title=""]Symtec Motorcycle Seat Heater[/mageProductLink] ($60) uses a thin and flexible carbon-fiber heating element that mounts below your bike's seat cover. It draws less than 2 amps off your bike's electrical system. A [mageProductLink sku="317-9533" title=""]small controller[/mageProductLink] is available that gives you five levels of temperature control.

Standard on most snowmobiles and a favorite of ATV riders, heated grips do a lot to improve your comfort on the bike. They won't warm your whole body, of course, but warm hands allow you better control of your vehicle, and that's important. You can buy grip-heating systems that fit under your existing grips for about $45. Or you can purchase complete systems, like the Hot Grips ($50-$100) with complete kits for [mageProductLink sku="317-9517" title=""]metric motorcycles[/mageProductLink], [mageProductLink sku="317-9518" title=""]Harleys[/mageProductLink] and [mageProductLink sku="317-9500" title=""]ATVs[/mageProductLink].

Cold And Wet Weather Advice


Stay Comfortable - Stay comfortable to stay alert and safe. If you're so focused on warming yourself, you're not focused on riding.

Slow Down - Don't think: "Are my tires warm enough to speed through this corner?" Just slow down and get through the corner.

Keep Visible - Cold weather usually means less daylight hours. Make sure other motorists can see you.

Get a Grip - Rain makes painted stripes even more slippery. Be careful changing lanes.

Keep a Cushion - Roads are most slick in the first hour of rainfall. Slow down and increase your distance from other vehicles.

Be Prepared - You don't need to park your vehicle all winter. You do need to be prepared for these cold-weather conditions.