Technical Riding Gear Buyer's Guide: The Science Of Klim
Chaparral Motorsports
|
October 19, 2011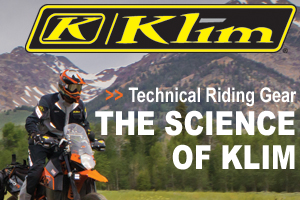 How Klim Uses Superior Engineering To Build The World's Most Technically Advanced Gear
Off-road, dual-sport and adventure riding is blessed and simultaneously cursed with a wide range of terrain, weather, logistic and other potentially life-threatening conditions. For a sport that is more about where you can go than how to get there, off-road adventure riding is genuinely unique.
The natural complexity and unavoidable exposure of an average ride means what you wear will vary greatly from your standard motocross pants and jersey. Get "In The Know" with Klim technology today!
LAYER UP!
The most important thing to remember is this: If your body is comfortable, you can and will survive. Once you get too hot, too cold, too wet or too dehydrated the chances of survival drop dramatically. There is no more efficient, comfortable or higher-performing clothing system than one made of intelligent layers. The key word is intelligent.
Think of your body as a machine not unlike your bike. It burns fuel, when it works hard it needs a cooling system to kick in and if you push it when too hot or too cold it will break and die. Versatility is key. Adaptability is paramount.
A layering system can be broken down into three segments: Moisture Management, Heat Balance and Weather and Obstacle Protection.
THERMAL LOSS AND RETENTION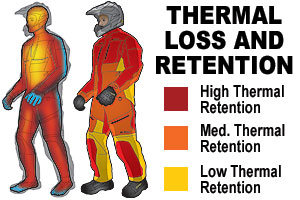 High Thermal Retention
The most exposed, forward facing extremities of Klim riding gear pull double-duty. Klim's waterproof outerwear and intelligent layering systems are engineered with these abuse zones in mind.
Medium Thermal Retention
The perfect blend of highly mobile and abrasion resistant materials. This "neutral zone" is the sweet spot of all-day comfort.
Low Thermal Retention
Using intelligent ventilation systems and the most advanced mesh and moisture-wicking fabrics, Klim's climate control technology concentrates on moving moisture and cooling you down.
MOISTURE MANAGEMENT
This essentially means getting sweat off your body and keeping your skin dry. Base layers should be constructed of synthetic materials with high-wicking properties that get sweat off your body as soon as possible. Your clothing system should incorporate an effective breathable wicking layer. Remember, "cotton's rotten" as it retains moisture for a long time. Klim's Aggressor Series and [mageProductLink sku="261-6004-120-600" title=""]Vented Socks[/mageProductLink] utilize specifically designed poly/spandex fabrics and CoolMax® materials to ensure your body's moisture does not get trapped.
HEAT BALANCE
Mid-layers are where you control your temperature. This is the layer that comes and goes as you ride. It's the flexibility of your clothing system. Again, it should be a high-tech synthetic fiber. The mid-layer needs to be breathable, lightweight and generally packable (since you'll be stashing it at times). Klim has designed a number of exceptional mid-layers that utilize Thinsulate™ Insulation and blends of low bulk, anti-piling fleece to provide maximum breathability while keeping you warm.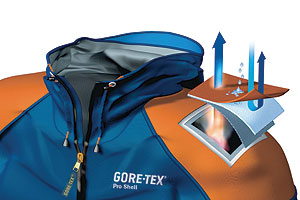 WEATHER AND OBSTACLE PROTECTION:
Truly great outer-layers result from superior engineering. Klim's technical riding gear is designed to repel the elements while supplying maximum comfort and protection with rugged durability:
Weatherproofness
Claims of waterproofness come and go. But only legitimate, GUARANTEED TO KEEP YOU DRY® technologies make the cut at Klim. GORE-TEX® performance leads the list of motorcycle-specific laminants. GORE-TEX® contains over 9 BILLION microscopic pores per square inch. These pores are 20,000 times smaller than a water droplet and 700 times larger than a water vapor molecule. The result: GORE-TEX® is completely waterproof from the outside, while being highly breathable from the inside. If it seems like science fiction, it's not. It's science fact.
Ventilation
Even with maximum breathability, you can overload the moisture transfer properties of even the best performing fabrics when you're working hard. This is where intelligent ventilation comes in. Utilizing Klim's base, mid and outer layering systems quickly eliminates heated air from your body, keeping you drier and riding more comfortably.
Abrasion and Impact Protection
The exterior of your riding gear should be engineered to take serious abuse. Klim seeks out and engineers the best in CORDURA® brand materials as well as other industry leading suppliers to make sure Klim gear is ultra-tough and long lasting. D3O™ intelligent armor provides the most advanced impact absorption technology in the high impact areas. From top-quality leather to genuine YKK® zippers, every part of the Klim riding gear system is designed to exceed rider expectations every time they ride.