Jett Boots Review - Lighter. Stronger. Longer Lasting
Chaparral Motorsports
|
October 19, 2011
[mageProductLink sku="131-662-1007" title=""]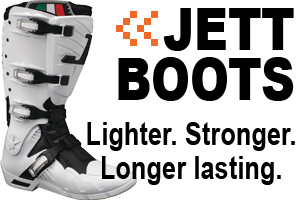 [/mageProductLink]
The [mageProductLink sku="131-662-1007" title=""]Jett J1 Boot[/mageProductLink] is made of plastic, actually "exclusive and proprietary materials," but it's a lot easier to simply call it plastic. No matter what you call it, the material provides several benefits.
The Jett Boots are lightweight, much lighter than traditional leather motocross boots. Durability and protection is not sacrificed for the weight reduction, either.
To get the best review, we spoke with an amateur MX enthusiast who has been wearing the Jett Boots on his last few rides.
"I've been riding motocross for years and I love it. But getting in and out of MX boots is more and more difficult. I struggle with it, and I've seen other guys wearing knee braces having a hard time with their riding boots, even boots that are old and broken in. When I saw that I could completely open the Jett Boots and simply slip my foot in and out, I had to have them. Even after a long day of riding the track when I'm completely exhausted, I can just pop my foot right out of these boots."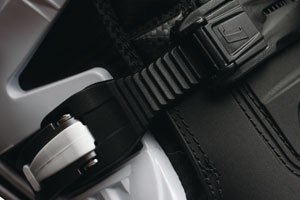 These boots have a hinged ankle and unique flex zones that allow an easy on/off and a broken-in feel on the first ride. All the boots components - buckles, straps, the sole's shank, even the upper shell - are removable and replaceable.
"At first you'd think the plastic foot would give you no feel when riding, but I could still feel the shifter each time. It's a different feel than with a leather boot, but it's still very slim, and my foot feels more protected."
The Jett's molded construction keeps them sleek and thin. The toe box has a low profile that allows easy shifting.
The upper shell comes in three different sizes - one for thinner legs, one for standard size, and one for larger legs or for those wearing larger knee braces.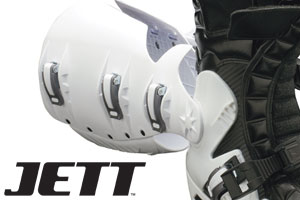 The inside of the boot uses ample padding for comfort. Non-plastic areas, like the top of the foot, use thick molded rubber that allows flexibility along with protection from rocks. The boot buckles have several adjustment settings so you can fine-tune the fit easily.
The boots are available in White or Black, and several colorful "graphics kits" are available to help you match a bike color.
The Pro Model boot includes an inner bootie - otherwise it's almost the same as the J1 boot.