Be Kind To Your Knees - Buyer's Guide To Knee Brace Fit And Function
Chaparral Motorsports
|
October 19, 2011
Why you need to wear knee braces, and how to buy them.
You buy and wear a helmet to prevent a head injury. That makes perfect sense. Why, then, do most MX riders forget the knee brace, only buying one (or two) after they've already injured a knee? Doesn't make sense.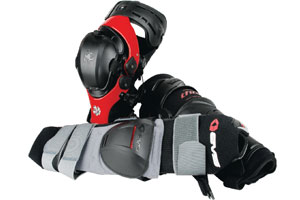 We see an increasing number of riders choosing to wear neck braces - that action deserves applause. Helmets, boots, gloves and proper apparel are all standard.

No one is suggesting you cloak yourself in armor before each ride in hopes of preventing every possible injury. Armor, no. Injury prevention, a big fat yes.

Why do knees go unprotected? Cost is surely one factor; you can easily spend more than $300 on a single knee brace.More likely, you simply don't see the need for a knee brace, or are confused about the purchase process: How is it supposed to fit? How long will it last? Can I wear it for other sports? What's it going to do to my riding pants, or my bike's plastic, or the rest of my body?

Instead of ignoring the questions - and a knee brace's benefits - let's work on answering those questions and help protect your knees.

COST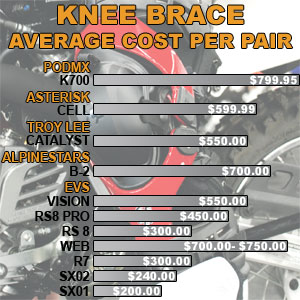 Knee brace prices start at $100 and run up to about $400 per brace. Arthroscopic surgery averages about $7,000, and a complete knee replacement will cost around $30,000. (Yes, you could travel to India and have either of these surgeries performed for less.)

Wearing a knee brace is no guarantee you'll avoid an injury that may require surgery. But if you buy the right brace - one that fits you well - and you wear it while riding (or skiing, or snowboarding, or ...), you'll be far-better protected against a knee injury that could sideline you now or later in life. That should answer the cost question.

You can see two main styles of braces. Those on the lower end of the price scale are most often soft-shell braces. These types wrap the leg and brace in Neoprene® or other soft material, even if they use a hinged knee.

Rigid-style braces are the more expensive ones, and they use frames made of carbon fiber or aluminum, creating a brace designed to closely mimic your knee's motion while protecting it against any unwanted and potentially dangerous motion ranges.

"Knee brace prices start at $100 and run up to about $400 per brace. Arthroscopic surgery averages about $7,000..."
You've certainly heard discussion about the "limits" of both knee-brace types. Doubters say the soft braces don't provide enough protection. True, these braces can't eliminate all knee injuries. But they do help protect your knee from a lot more damage than by not wearing any brace. And skeptics of the rigid braces will say these items will protect your knee while transferring a damaging force to your femur (thigh bone). Maybe, but even a broken femur is better than a destroyed knee, which may never heal completely.

The more-expensive rigid-frame knee braces should last for a long time, assuming you don't need a different size. (I've been using the same ones for several years, and I wear them for snow skiing, too.) The soft-shell braces will have a shorter life, and that all depends on how hard and how often you ride.

NEED

Regardless of cost - because you've admittedly spent more money on parts or accessories with less-tangible benefits - there is a valid question about the real need for a knee brace. Answering that question well might require a thorough anatomical explanation of the knee joint. In lieu of that, know your knees are the most complex joints in your body. They control movement in several directions, help manage the largest bone in your body (the femur), and take a huge amount of abuse.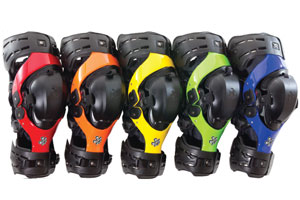 And that's when you're off the bike. While riding, think of what could happen when you put your foot down going into a corner. Or when you stand on the pegs hammering through a whoops section. Or even when you step into a slippery porta-potty exhausted between motos.

Though marketed primarily to motocross riders, many of these knee braces will offer protection benefits during your participation in other sports. Skiing and snowboarding, mountain biking, even wakeboarding, are all sports that present knee-injury possibilities.

FIT & STYLE

If your riding buddies are stopping to adjust their knee braces, or if they complain about fit, they're not doing it right. Comfort and protection can co-exist.

Quick Tips - Get the proper fit
To ensure a proper fit, circumference measurements should be taken directly on the skin with the leg straightened, using a soft tape measure. If a soft tape measure is not available, a piece of string or yarn may be used to calibrate the leg's diameter, then measured against a hard tape measure. Sizing charts for each knee brace are available at www.Chaparral-Racing.com
This is one area where "you get what you pay for" comes true. On the lowest end of the pricing scale, a knee brace might simply wrap around your leg using two wide Velcro'd straps. And it might be a "universal" brace that fits both your right and left leg. Not being critical, we applaud these lower-priced braces for offering a decent level of knee protection at a price that anyone can afford.

On the higher end, you get a brace that fits using a lightweight, moisture-wicking sleeve along with individual adjustment points and form-fitting padding. These upper-end braces are sold individually or in pairs with specific right-knee and left-knee designs - they're one small step short of having an orthopedic specialist design your brace.

You can successfully fit a knee brace by following the maker's instructions and taking some careful measurements around your knee. The manufacturers all use unique sizing methods, and the more detailed ones are outlined on the Chaparral website.

LOOK AT THESE

[mageProductLink sku="996-0001" title=""]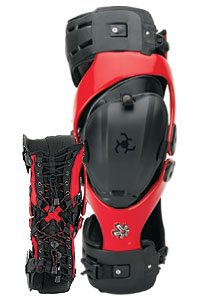 [/mageProductLink]

ASTERISK
[mageProductLink sku="996-0001" title=""]Cell Knee Protection System[/mageProductLink]
This company was formed by a group of adventuresome athletes with backgrounds in orthopedic devices. The company introduced the Cell product 10 years ago as a "retail" knee brace that was much more accessible than those traditionally obtained only through orthopedic surgeons. As such, this brace sets the standard for other off-the-shelf knee braces that followed.

The Cell System has a few unique features to note. It has multiple adjustment points, giving the user very fine fit control. It also features an "anti-rotation tether" system that attaches the brace to your boot for even better protection.

The Cell System retails for about $599 a pair. The company more recently introduced the [mageProductLink sku="996-0100" title=""]Germ System[/mageProductLink], designed specifically for younger MX enthusiasts ($350). It includes several of the same features as the Cell, but designed specifically for the smaller legs of young riders.

[mageProductLink sku="110-sx02-s" title=""]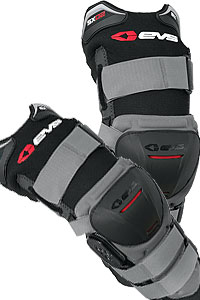 [/mageProductLink]

EVS
[mageProductLink sku="110-sx02-s" title=""]Sports SX02 Knee Brace[/mageProductLink]
EVS introduced its first knee brace in 1985. It has since launched a wide range of protective gear and apparel for MX and off-road riders. The SX02 uses aluminum hinges that can be set to limit flexion or extension in 15-degree increments as you need for best protection. These hinges are wrapped in flexible "airprene" Neoprene® material. And the brace uses four straps for a secure fit that wraps close to the leg and wears well under riding pants. The universal brace fits right or left legs, and is sold individually for about $120.