Motorcycle Jacket Buyer's Guide
Chaparral Motorsports
|
October 4, 2011
|
Last Updated: May 8, 2020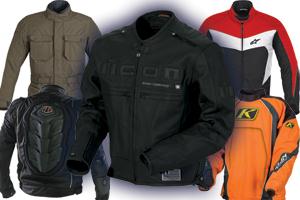 It's hard to look uncool on the back of a motorcycle, but you can come pretty close if you don't have the right jacket.

Besides the bike itself, there is perhaps no aspect more important to the motorcycle community than the jacket. Sure, there's the classic black leather jacket with jeans and a Harley - you can never go wrong with that. Yet over the years, an entire industry has sprung up in providing a broad range of motorcycle apparel for riders. Leather isn't the only option anymore - there's jackets in nearly every material, every color and for every type of rider.

It can be a confusing landscape to navigate, and there's a lot to consider when buying a motorcycle jacket - almost as much as when buying a bike itself. Fortunately, there are just as many options to choose from - so there's definitely something out there that's right for you.

We'll start with things that should be considered in every jacket. There are various kind of jackets, with all different features. But the first things you should look at are the things common in all jackets: pockets, padding and overall fit.

Nearly all motorcycle jackets come with padding, typically in the elbows, shoulders and back. This is to help you out in case of a crash. Some just have cushioned material, others go for protective plating and made of full string synthetic materials.

Pockets and liners are another important aspect. This is where motorcycle jackets start to separate themselves from normal pieces of apparel. If you plan on long road trips, you'll need a lot of storage space in both your bike and your jacket. Liners can help you adapt to the riding conditions - you should be able to zip out part of the jacket if things get too hot. A jacket should also have vents to provide you with some air on hot summer days. The coat should also feature straps and closures that will attach tightly to your wrists and elbows - you don't want to be flapping around out on the road.

How the jacket fits is also an important consideration. Head out to the store and try on a jacket in your normal size. Fits pretty well, right? Wrong. Now go take a seat in that jacket. Riders forget that they'll be sitting down when they're riding. Thus it's important to get a jacket that will fit your right as you sit. This means you might need to go a little bit longer in the arms and shoulders. If you can, try it out on your motorcycle - the position of the handlebars may dictate how it fits you.

Once you've figured all that out, start thinking about the specific type of riding you're going to be doing. Someone who plans on taking long road trips on their cruiser bike will have different requirements than a rider who is just tooling around a city on their sport bike. Where you ride is important, but one should also consider when they plan on riding. That summer windbreaker won't get the job done if you're riding through Wisconsin in the winter.

Cruiser and touring bikers need durability first and foremost. These bikers love their leather, and for good reason - it's probably the best material when it comes to protection on the open road. That said, not all leather is created equal. In general there are three grades of leather: split, top grain and full grain. Split leather is cheap, but not very high in quality. Top grain is usually "corrected" by sanding to remove imperfections, and most consider it a step up from split leather. Full grain, also known as naked leather, is the highest quality you can buy. This leather will age over time and really give you a nice look, in addition to providing top protection out on the road.

For sports bikers, the most important aspect is comfort. Keep in mind that you will be in an aggressive riding position, and this affects how the jacket fits. Fortunately, if you're sticking mainly to tracks and city streets, you won't need to worry so much about durability or storage space.

Off-roading is a different beast entirely. Sometimes leather is not the best option here, especially if you are riding in hot temperatures. The heat combined with the sweat you'll work up could cause some discomfort. Almost all jackets have zip-off liners, but some also come with zip-off sleeves, which might be the best option here. You'll also need a lot maneuverability. A bulky jacket will just become annoying, so make sure you get something that's somewhat light and above all just feels right when you ride. The best jackets don't even feel like jackets, but like a second skin, and that's what off-roaders should be looking for.

For hotter temperatures, you might want to consider going with something other than black. Yes it looks cool, but nobody looks cool sweating up a storm. A windbreaker is a good option for the summertime, as long as it still has the protective plating to help you out in an accident.

Winter riding jackets come with all sorts of features to help stave off the cold. Make sure that it leaves no skin exposed and is tough against the wind. You may also want to go with a non-leather material, like nylon, if you plan on dealing with wet weather. Many of these rain jackets actually wick away moisture, which can be incredibly useful.

Last but not least: style. It goes without saying, but you need to like the look of a jacket. Whether you just want the classic black leather or something a bit more eye-catching, there's something out there that'll suit your taste, so don't compromise on an ugly jacket just for the features. Every manufacturer and apparel company makes jackets, and there are even some designer brands out there now getting into the act, so your options are limitless.