Motorcycle Boots Buyer's Guide
Chaparral Motorsports
|
October 4, 2011
|
Last Updated: May 8, 2020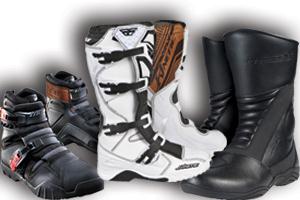 For riders who are getting on a bike for the first time, motorcycle boots can be a bit of a rude awakening. Many just assume that riders use the same pair of boots that they use elsewhere when they ride. However, this is a bad idea - these boots will provide no type of protection whatsoever and you may have trouble with control. In more specialized types of riding, such as off-roading, boots are absolutely essential.
When trying on a motorcycle boot for the first time, you will probably be a bit uncomfortable. Riding boots really are not designed to be walked around in or worn on a regular basis. It's nearly impossible to find a shoe that feels comfortable for everyday use and is also built to ride a motorcycle. Think of them a bit like ski boots - these are designed to do one thing, and when you're done you probably want to take them off.
Like many accessories in the motorcycle world, the type of motorcycle boots you should buy ultimately depends on what type of riding you plan on doing. There are boots for every discipline, and they can vary greatly. Off-road boots look and feel a bit closer to ski boots than the shoes that a cruiser rider would buy.
Some buyers may look at a pair of cruiser boots, look at the price tag and say "I'll stick with my work boots." But this is just a bad idea all around. For starters, those boots will likely come flying off in the event of a crash. There's also no telling how they will grip the bike - you don't want your foot slipping around. Plus, those laces are just begging to get caught on something.
This is why motorcycle boots come with oil-resistant soles and smaller heels for better grip. The soles are also attached in a different way than normal boots. Finally, the boots are designed to clasp tightly around the foot and ankle, providing excellent protection and ensuring that they stay on. That said, they also need to feel comfortable while riding - even if they're a bit annoying while walking.
One group of riders who do not need boots are street bikers. And you'll realize this as soon as you get on a street bike and get in the aggressive riding position - your feet just don't come into play.
On the other hand, off-roaders and motocross racers absolutely need a good pair of boots. These typically come in hinged and unhinged varieties. The hinged kind is more expensive, but offer flexibility in the ankle area, which some racers feel gives them an edge. Some boots also feature interchangeable soles that the rider can swap out if need be.
Inside the shoe is where some riders differ when it comes to comfort. The main split here is bootie or non-bootie. A bootie is a flexible insert that the rider places on first before putting their foot inside the boot. Some feel that this is more comfortable, plus the interior can be washed to get rid of grime and dirt. Others don't like the tight fit of the bootie and feel that it may create too much heat inside the boot. This is an area where the rider will just have to try for themselves to determine their own preference.
In the end, motorcycle boots of all kinds do enough that they are worth the investment. So leave the work boots and tennis sneakers in the closet and invest in a real pair of riding boots - your feet will thank you.