Brown And Caselli Podium At Glen Helen WORCS
Chaparral Motorsports
|
September 26, 2011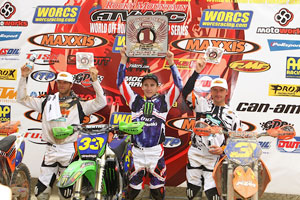 Factory FMF/KTM teammates Mike Brown and Kurt Caselli landed on the podium at the eighth round of the WORCS finishing 2nd and 3rd overall respectively allowing Caselli to hold his grasp on the points lead while Brown moved up one position in the overall rankings to third.
This round was held at Glen Helen Raceway in Devore, CA. Day one saw Taylor Robert grab the holeshot followed closely by Bobby Garrison, Kurt Caselli and Mike Brown. Caselli and Brown remained close to Garrison but struggled to make the pass early in the moto and allowed Robert to pull a gap out front. Eventually the KTM duo made their way around Garrison and began to press toward Robert. Brown was able to make the pass on Caselli approximately halfway into the race and was able to close the gap on Robert from 10 seconds to five seconds with a few laps to go. Each time Brown got Robert in his sights lappers would come into play and would cost Brown a few seconds as he had to navigate his way around them. Robert eventually took the win while Brown finished 2nd and Caselli rounded out the podium.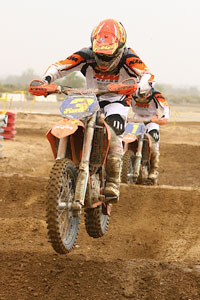 Day two was a complete carbon copy of day one off the start, only this time Brown was ahead of Caselli and both again trailed Robert and Garrison. Brown was able to move around Garrison quicker than he did the day before to move into 2nd. Caselli took a little longer to find his drive and didn't make the pass into 3rd until heavy pressure from Justin Soule in the 5th place position helped him find his charge. Caselli went on to put in the most impressive lap of the day, passing into 3rd and also gaining valuable seconds on the 2nd place ride of Brown.
"I'm not sure why it took me so long to find my groove, but once I got going I felt great on the course today. It was so fast paced you had to be on your game all day. I tip my hat to Robert and Brown who were able to stick it out longer than I did," remarked Caselli.
While Caselli charged on in 3rd place, Brown had also closed the gap to 4 seconds behind Robert. Unfortunately, on the final lap as they headed down the single track section at the back of Yamaha hill, Brown got stuck behind two lappers who cost him about 15 seconds and allowed Caselli to close up on him for the runner up position. Robert went on to take the win on day two and the overall while Brown was able to hold off his teammate to finish 2nd and Caselli finished 3rd.
With two rounds to go, Caselli holds the lead in the point standings by 28 points over Robert. Brown moved up from 4th in the series point standings to 3rd with his podium finish. Also leading her class is RPM/KTM rider Kacy Martinez who won the Glen Helen WORCS event and strengthened her lead in the Women's WORCS standings. Glen Helen marked her fourth win of the series and gave her a 16 point cushion in the point rankings.
Next Event: Race Town 395 - October 14-16, 2011 - Adelanto, CA
Overall Results Pro Class
Taylor Robert
Mike Brown
Kurt Caselli
Justin Soule
Bobby Bonds
Bobby Garrison
Robby Bell
Cole Martinez
Ryan Abbatoye
Gordon Ward
Overall Point Standings
Kurt Caselli - 354
Taylor Robert - 326
Mike Brown - 296
Bobby Garrison - 290
Justin Soule - 260