Young And Suzuki Win Superbike Closer
Chaparral Motorsports
|
September 6, 2011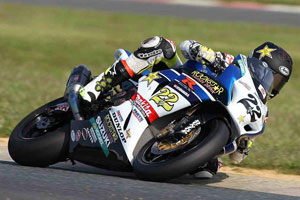 Team Rockstar Makita Suzuki gave 100 per cent in the season-ending AMA Pro National Guard SuperBike Championship races at New Jersey Motorsports Park in Millville, New Jersey at the weekend.
Sunday's race was one of the most exciting in recent history and Blake Young took the spectacular win on his Yoshimura-prepared Rockstar Makita Suzuki GSX-R1000. Team mate Tommy Hayden (pictured) represented well on Saturday, bringing home an impressive third-placed finish and when all was said and done, Young finished out the season in second-place overall while Hayden finished third.
In Saturday's 23-lap race, Young battled with Hayden for the final podium spot but wound up relinquishing that position to his team mate and ended up in fifth. On Sunday, however, Young pulled out all the stops. He got off the line in second place on his Rockstar Makita Suzuki GSX-R1000 and was dicing with up to eight other riders all separated by mere tenths of a second. Young swapped out the lead multiple times before capturing the breathtaking victory.
"My Yoshimura-supported Rockstar Makita Suzuki team has worked hard all year long," said Young. "Although I'm happy to get the win, finishing second in the Championship was tough. But in the race, I just wanted to show what my team was capable of. I wanted to bring home the win for them because they deserve it. They know how to win Championships and I'm still learning. They've stuck by me and I want to say my guys - 'thank you for everything.' Overall, I'm happy that I've had the season that I've had and I'll come back next year and try harder to put forth a better effort, because that's what my team deserves."
Meanwhile, Hayden came into the weekend with the attitude that he was going to "win or die trying." On Saturday, the Kentucky native overcame a lacklustre start, moved quickly through the field on his Rockstar Makita Suzuki GSX-R1000 and finished on the podium. On Sunday, he got the holeshot and led the multi-bike freight-train for much of the race before suffering a get-off while in second place. Fortunately, Hayden wasn't harmed but neither was he able to rejoin the race.
"Overall the weekend was pretty good," said Hayden. "Yesterday, we were on the podium and today my Rockstar Makita Suzuki GSX-R1000 was fast in the race and I was competing for a win. Unfortunately, I made a mistake and tipped over. It's definitely disappointing to end the season like that, but I went out trying and I feel good about that."
New Jersey SuperBike Results, Race 1:
Josh Hayes
Ben Bostrom
Tommy Hayden
Roger Hayden
Blake Young
Steve Rapp
Larry Pegram
Martin Cardenas
Chris Clark
Brett McCormick
New Jersey SuperBike Results, Race 2:
Blake Young
Josh Hayes
Roger Hayden
Martin Cardenas
Ben Bostrom
Geoff May
Taylor Knapp
Chris Clark
Jeremy Toye
JD Beach
2011 AMA Pro SuperBike Class Standings:
Josh Hayes - 363
Blake Young - 358
Tommy Hayden - 288
Martin Cardenas - 231
Ben Bostrom - 209
Roger Hayden - 202
Larry Pegram - 190
Chris Clark - 157
Steve Rapp - 139
Geoff May - 139