Blazusiak Wins Three Straight Endurocross
Chaparral Motorsports
|
August 29, 2011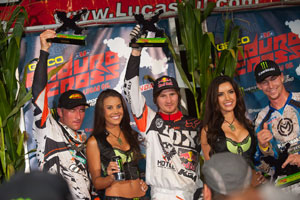 Taddy Blazusiak earned his third-straight win in the GEICO AMA Endurocross race this past Friday in Indianapolis, Indiana.
Plenty of racing fans were in town for the MotoGP event taking place in Indy over the weekend, and since the Friday night race did not conflict, it's a safe bet that many opted to check out the Endurocross race at the Pepsi Center. Endurocross is a relatively new art that combines time-trial obstacle courses with traditional lap racing. So far this season, Blazusiak has been cleaning up since making the switch to a KTM 350 SF-X, winning the last three races, including Friday's.
Blazusiak had to beat his teammate, fellow FMF/KTM racer Mike Brown, to take first place. In qualifying, Blazusiak made a mistake that put him in seventh to begin the race. Brown shot out to an early lead, but he too made a mistake and allowed Blazusiak to get out in front. It was smooth sailing for the Polish off-roader from there.
Monster Energy Kawasaki's Justin Soule ran a strong race to get on the podium in third place, just barely overtaking Cory Webb on the final lap.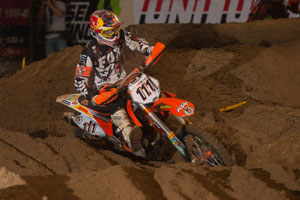 Although the EnduroCross season is only weeks old, Blazusiak has already won three of the seven race series. He took the inaugural gold medal at the X-Games in Los Angeles, which counted as Round One and also won Round Two at Everett in Washington. This season Blazusiak has moved up to the KTM 350 SX-F machine, the bike that was developed by KTM with input from 10-time World Champion and European Red Bull Teka KTM Manager, Stefan Everts.
Blazusiak and Brown had a serious face-off in the final on Friday night with Brown leading for several laps over the obstacles before a mistake cost him the lead and the eventual victory. EnduroCross, a relatively new discipline in motorcycle racing is proving a crowd pleaser, especially after the sport's hugely popular launch as part of the 2011 X-Games. Run over a series of daunting hazards in an indoor arena, it is proving an effective way of bringing the thrill of extreme Enduro to city venues.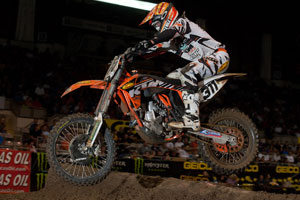 Blazusiak may seem to be dominating the current competition but it was not without a challenge from Brown who looked impressive on the track. It is clear that Brown plans to take on the challenge of stopping his teammate's domination. The afternoon kicked off with timed qualifying laps to determine the gate picks for the three heat races. Brown set the fastest time, while Blazusiak, who made a mistake was back at seventh fastest. Blazusiak went on to win his heat race to line up with Brown and the other qualifiers in the main event. KTM support rider Colton Haaker was the lead rider at the start of the main but Brown and Blazusiak quickly hunted him down. Brown held the lead for several laps but then had to succumb to Polish pressure. Blazusiak rode on in his usual near-faultless style to secure yet another victory.
The Endurocross competition also featured a 35+ Vet class, which was won by Dirt Bike Magazine editor Adam Booth.
Riders will tackle Round Four in Ontario, California on September 17.
Overall Results
Taddy Blazusiak
Mike Brown
Justin Soule
Cody Webb
Colton Haaker
Geoff Aaron
Gary Sutherlin
Bobby Prochnau
Rory Mead
Taylor Robert