Caselli Wins Washougal WORCS
Chaparral Motorsports
|
August 22, 2011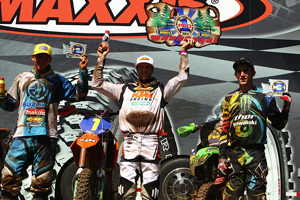 FMF/KTM rider Kurt Caselli secured his fourth overall win at the seventh round of the WORCS Series held in Washougal, WA with a pair of moto wins.
The seventh round of the series had the first moto scheduled on Friday and the second moto on Saturday, a day earlier than the typical WORCS race schedule. Despite the change in the race schedule, Caselli adapted well and showed up a day early to the Washington area ready to race.
Friday's moto went as planned for Caselli. He got off to a great start nailing the holeshot and pulling to an early lead. By the halfway point Caselli had pulled to a 30 second lead. With only a lap remaining he conserved his energy and backed down the pace to cruise to an easy win ahead of Suzuki's Josh Strang and Caselli's FMF/KTM teammate Mike Brown.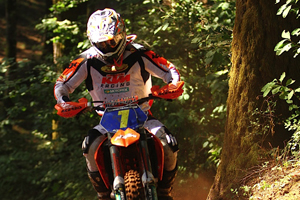 On Saturday, it was Brown who claimed the holeshot and led the first lap followed by Caselli. "This race was all about the start," commented Brown. "It was so dusty in the off-road section because they couldn't water back there because of the tight trees, so if you weren't out front early you were in for a challenge."
Luckily Brown was out front and he was able to pull away. It looked like the second moto was in his favor until he lost his rear brakes with less than two laps to go. He had to return to the pits to get the repair made which handed the lead to his teammate Caselli. Brown returned to the race in 6th place and with one lap left was able to catch back up to 5th before the checkered flag. Caselli, who did not realize Brown had pulled off, crossed the checkers to take an unexpected win in the second moto to secure the overall victory for the weekend.
"I didn't know Brown had pulled off. I never saw him off to the side or anything so I didn't realize I was leading. It was definitely a nice surprise to cross the finish line and figure out that I was leading the race but I'm definitely bummed for Brown, he was on fire today," remarked Caselli.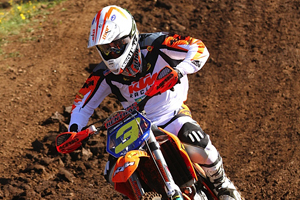 Brown's 3-5 finishes secured him 4th overall for the event and placed him ahead of Justin Soule, whom he has been battling in the points chase.
Amongst the KTM's on the podium this weekend was RPM/KTM rider Kacy Martinez. She won the women's class and increased her points lead to 11 points over the next closest competitor, Elizabeth Bash.
Next Event: September 23-25, 2011 - Glen Helen Raceway
Overall Results -
Kurt Caselli
Josh Strang
Taylor Robert
Mike Brown
Justin Soule
Bobby Bonds
Gary Sutherlin
Destry Abbott
Bobby Garrison
Joey Ruminer
Overall Points Standings -
Kurt Caselli - 314
Taylor Robert - 276
Bobby Garrison - 261
Mike Brown - 252
Justin Soule - 226