Forsberg Wins Women's EnduroX X-Games Gold
Chaparral Motorsports
|
August 2, 2011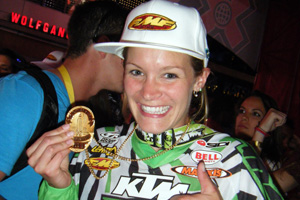 RPM/KTM rider Maria Forsberg made history when she took a dominating win to earn the first Women's EnduroX Gold Medal at X-Games 17 held at the Staples Center in Los Angeles, CA.


Forsberg, a four-time WORCS Champion and the reigning GNCC Champion is one of the most decorated female off-road athletes in the sport. Earlier this year, she was extended an invite to compete in the first-ever X-Games Women's EnduroX event, a dream come true for the talented rider. "I was so excited to hear that the X-Games were going to have an EnduroX event, and more importantly, a women's class. I jumped at the chance to compete and am so excited for the opportunity to help bring more exposure to the sport of off-road riding," remarked Forsberg.


To make the moment more special, Forsberg was able to compete with her RPM/KTM teammate and reigning WORCS Champion Kacy Martinez. Also representing the orange brand was motocross rider Elizabeth Bash who has been lining up on moto and off-road gates this season.


The course was built with tough log sections, loose rocks, a firewood pit and fast straights. "This track was fast-paced today which is not typically my style. I felt a little uneasy going into the race but knew if I just got a clean start and avoided any pile-ups that I would remain consistent and would be able to make any passes I needed to make," stated Forsberg.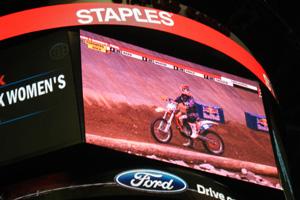 At the start of the six lap main it was Forsberg's teammate Martinez who nailed the holeshot. She was followed by Tarah Gieger and Sara Price. Gieger and Price collided on the first log section which allowed Forsberg to jump into 2nd behind her teammate. Martinez led the first lap and a half with Forsberg in tow.


The log hill on the second lap got the best of Martinez when she lodged her front tire in between two logs and went down. Forsberg jumped in the lead and never looked back. She went on to take a commanding lead and earn the victory. Meanwhile, Martinez, who had to climb all the way up the log hill after her fall to remount her bike and continue on, was able to charge back up to an impressive 3rd place to take the bronze medal.


"It feels amazing to win X-Games gold. I would have never thought I would have this opportunity or would have gotten this win. I can't thank my team and everyone that came out and supported me enough. This is the best feeling in the world," stated Forsberg.