1914 Harley Hits The Track
Chaparral Motorsports
|
August 2, 2011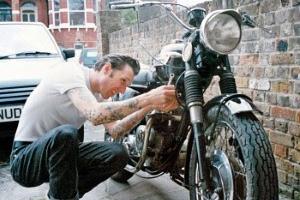 The Betty Boop Festival located in Wisconsin Rapids always includes a portion of events for motorcycle enthusiasts, with a full slate of activities scheduled for the Golden Sands Speedway. This year, however, a surprise guest provided perhaps one of the most memorable moments ever.

Bill McMahon, 68, of Wisconsin Rapids, decided to get on the track with his motorcycle. That in itself isn't unusual - but McMahon's Harley-Davidson dates all the way back to 1914. Finding one of these bikes is rare. Finding one that still runs is rarer. Finding an owner that is willing to take an artifact like that on a track? It almost never happens, which is what made the moment special.

"He just wanted to go a couple laps with his 1914," Craig Bassuener, Golden Sands Speedway promotions director, told the Wisconsin Rapids Tribune. "Just one of those things; must be on his bucket list."

McMahon bought the bike for $15 in 1972. Over the years, he has tracked down motorcycle parts and restored the model to pretty good condition. Some say it looks like a bicycle with a motor attached - and that's not too far from the truth.

Wearing shorts and a leather motorcycle helmet, McMahon took to the track for a few minutes of glory. After the laps, he had several offers from attendees to purchase the bike, but he wasn't entertaining any.

"I'm not selling it," he siad. "It's in the will."