Captain America Bike To Be Sold On EBay
Chaparral Motorsports
|
July 29, 2011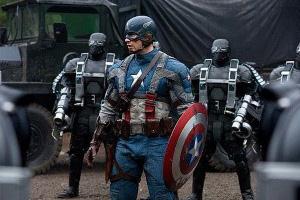 "Captain America: The First Avenger" tore up the box office this past weekend, and those who went to see the new film know that it had some of the better motorcycle stunts seen in recent movies. The filmmakers weren't shy about showcasing bikes as a core part of the film, which reflected Harley-Davidson's efforts to deliver motorcycles during World War II.

Now, riders have a chance to own a motorcycle with a connection to the film. Marvel Studios and Harley are auctioning off a 2011 V-Rod Muscle. It doesn't appear that the bike was actually used in shooting, but it was present at the premiere. Making the bike special is the fact that it bears the autographs of Chris Evans (who played Captain America), Samuel L. Jackson, Neal McDonough, director Joe Johnston and comics icon Stan Lee.

The bike is being sold on eBay to benefit the Disabled American Veterans Charitable Service Trust and the Harley's Heroes program. Both of these charities support veterans who have come back from the war by working to obtain benefits and education for them.

Some of the motorcycles actually used in filming will be going to the Harley-Davidson Museum in Wisconsin, so fans of the film can check them out there if they so desire.