Hayden And Suzuki Win Laguna Seca
Chaparral Motorsports
|
July 26, 2011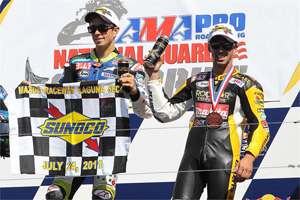 In one of the closest AMA Pro SuperBike races this year, Rockstar Makita Suzuki's Tommy Hayden took the win by 0.232 of a second and team mate Blake Young made the pass for the final podium spot right at the line at Mazda Raceway, Laguna Seca on Sunday. This is Hayden's third victory of the season while Young's result allows him to maintain the lead in the overall points standings.


Because the AMA paddock joined the Red Bull U.S. MotoGP at Laguna Seca, there was only one AMA Pro SuperBike race, as opposed to the usual two.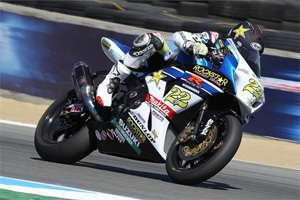 Hayden qualified in the second spot on the grid and got off to a great start in the 23-lap race. He made no mistakes on his Yoshimura-prepared Rockstar Makita Suzuki GSX-R1000 and was biding his time in second place for most of the race. Then, with just a few laps remaining, Hayden made a pass for the lead and brought home the win.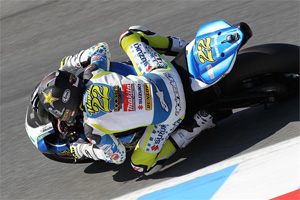 "From the beginning, the race went really well," said Hayden. "I got a great start and the Rockstar Makita Suzuki GSX-R1000 was working really good. Josh Hayes came by on the first or second lap, we went back and forth a couple times and then he got into his rhythm. I settled in and followed him around for a little while and we were going pretty fast; it definitely wasn't an easy pace, but we see-sawed around the track a little bit - he had some places where he was fast, I had some places where I was - but overall the gap stayed within a couple bike-lengths the whole way. But eventually I was able to find a place where I could make my move... and I got in the lead. The last lap was obviously pretty intense... but it's been a pretty fun weekend: I've enjoyed myself and it's great to top it off with this win."


Young also got a good start on his Rockstar Makita Suzuki GSX-R1000. He was right behind Hayden in third place for the first 15 laps of the race before getting passed and moving into fourth. From there, he stayed right with the rider in front of him and took back the podium spot as they crossed the line with the chequered flag.


"It feels pretty good to be leading the points," said Young. "I'm trying not to put too much pressure on myself and remember the important things, like I'm here to have fun. My number one goal at Daytona was to stay on the motorcycle for every race this year and put in a decent effort toward winning the Championship for the Rockstar Makita Suzuki team. I feel like I've had the pace in the past, but injuries have taken me out of the hunt. Today, I wish I'd been able to fight for the lead, but I'm happy to be on the podium and looking forward to focusing on the last race."


The 2011 Rockstar Makita Suzuki team's next and final event of the 2011 AMA Pro SuperBike Championship series will be at New Jersey Motorsports Park in Millville on September 2-4th.

Laguna Seca SuperBike Class Results:

1. Tommy Hayden

2. Josh Hayes

3. Blake Young

4. Roger Hayden

5. Ben Bostrom

6. Larry Pegram

7. Steve Rapp

8. Martin Cardenas

9. Chris Clark

10. Geoff May

2011 AMA Pro SuperBike Class Standings:

1. Blake Young - 311

2. Josh Hayes - 306

3. Tommy Hayden - 263

4. Martin Cardenas - 200

5. Larry Pegram - 169

6. Ben Bostrom - 168

7. Roger Hayden - 163

8. Chris Clark - 132

9. Steve Rapp - 122

10. Geoff May - 114