Fiolek Fired Up For X Games 17
Chaparral Motorsports
|
July 22, 2011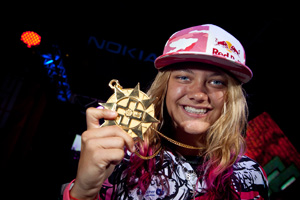 Returning X Games gold medalist Ashley Fiolek talks Moto X competition.
Red Bull factory Honda rider Ashley Fiolek, the reigning X Games gold medalist, is looking to fatten up her trophy collection with another Moto X victory. X Games 17 is just around the corner ( tickets on sale now) and despite being in the midst of another fiercely competitive WMX season, Fiolek has found time to sharpen her "indoor" skills in preparation for the Women's Moto X Racing competition.

Fiolek took a moment to talk about the upcoming X Games, the new STAPLES Center venue for Moto X events, and also talked about why she had to regretfully decline an invite to race the inaugural Enduro X event.

Just a few years ago it was a big deal for the Women to get invited to the Moto X event at X Games - and now you're the headliners! How does that feel?

Well of course it feels great! I mean, I still wish the guys were there, but this is huge for women racers and I am glad that I am a part of it all.

This year's Moto X Racing will take place in STAPLES Center rather than the Coliseum. Do you feel that moving things indoors will improve the track conditions (dust, sun glare), and by extension, the racing?

I think it will be a little of both. There will definitely be the environment improvements that we will not have to worry about, but at the STAPLES Center the track is also supposed to be tighter and shorter and we will be doing qualifiers now, too - something we haven't done in the past X Games races.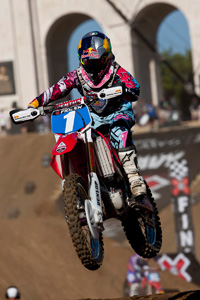 How much do you and the team dedicate to racing X Games? It's only one event, but it's very different from WMX. Do you have a dedicated bike? How much preparation?

Every year it seems the dedication from my team and myself is improving. The Honda race team and Red Bull have been very supportive of me racing X Games. I have done some testing and I have a bike just for [X Games]. The team has come out to support me even in practice. It is hard to turn SX on and off compared to my outdoor national racing but I have been doing some practice since after the fourth of July.

You were invited to compete in the Enduro X Women's competition - are you going to do it?

I just recently came to the decision, but I will not be participating in Enduro X. I did want to do it - it's something new and everything about X Games is always exciting. But when a few of my sponsors approached me about not racing it, it was time for my family and me to re-evaluate.

There just wasn't enough time to prepare for it and I don't really have anywhere to practice. I would need a completely different bike and setup. My sponsors want me to focus my energies on the SX race right now.

Do you have any background in off-road? Have you ever attempted things like boulders and log crossings?

No, I have not done any of that. It doesn't really come up in moto racing!

Moto X Women's Racing is Saturday, July 30 at STAPLES Center and tickets can be found here: TICKETS

For more information on the GEICO AMA EnduroCross Series presented by Lucas Oil, including additional images of the track, go to www.EnduroCross.com.

X Games 17:

ESPN X Games celebrates its 17th year by returning to Los Angeles with more than 250 of the best action sports athletes competing for the most coveted medals in Skateboard, BMX Freestyle, Moto X and Rally Car Racing. X Games 17 takes place July 28 - July 31, 2011 within the downtown area among four world-class venues - STAPLES Center, Nokia Theatre L.A. LIVE, the L.A. LIVE Event Deck and Lot 7.

STAPLES Center is the place for all things Moto X; featuring Moto X Speed & Style, Step Up, Best Whip, Racing & Enduro. Fans of BMX and Skateboard Vert will experience the thrilling competition when they literally take center stage inside Nokia Theatre L.A. LIVE.

For more information on ESPN X Games, visit www.espn.go.com/action/xgames. To purchase X Games 17 tickets ( Click).

X Games 17 On TV

ESPN, ESPN2 and ABC will offer 25 hours of live, HD programming from X Games 17 in Los Angeles. ESPN3.com will simulcast 23 hours and ESPN 3D will telecast 21 hours of live X Games coverage. For additional X Games 17 info, go to www.xgames.com