Warner Sets New Motorcycle Land Speed Record
Chaparral Motorsports
|
July 21, 2011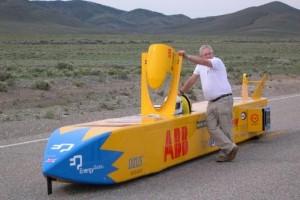 A new land speed record for motorcycles has been set, as Bill Warner of Wimauma, Florida, beat his own record by nearly 40 miles per hour.

Last year, Warner was able to get up to 273.35 miles per hour. This year, however, he shattered that record, hitting 311.94 miles per hour. The performance was part of the Loring Timing Association's Land Speed Race, which is held every year with the hope of breaking land speed records in a variety of categories.

"Today here at Loring we came to do some racing," Warner told the Bangor Daily News. "We were lucky enough to get a clean pass early this morning. The wind was down. We became the first motorcycle to go over 300 miles per hour."

Warner set the record on his heavily-modified 1299cc Suzuki Hayabusa. The motorcycle might bear the Suzuki name, but it looks nothing like a typical bike. The front is curved and aerodynamic, but the back is nearly flattened into a thin fin-like shape.

It's worth noting that technically, faster speeds have been achieved on motorcycles that enclose the rider inside, much like a car. However, this is the fastest land speed reached by a conventional motorcycle.