Reed Survives Crash, Dungey Comes Out On Top
Chaparral Motorsports
|
July 18, 2011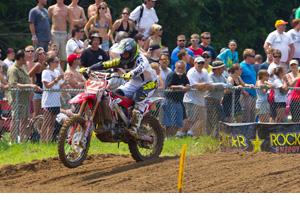 Ryan Dungey was able to make it four wins in a row with a strong performance during a wild weekend at Millville.

Points leader Chad Reed was able to win the first moto, with Dungey taking second. There was a bit of an odd moment in the race when Reed threw his motorcycle goggles off, which are typically necessary to prevent dirt from blinding a rider. Reed said his goggles were a distraction after they had gotten sweaty and grimy during the race.

The second moto provided perhaps one of the scariest moments in recent motocross history. Reed hit a jump at a high speed, but ended up going over the handlebars. Cycle News says that he "sickeningly" flew through the air, "perhaps 50 feet," before landing hard on the ground. Most people thought he was seriously injured, but Reed picked up his bike and miraculously continued to race.

Still, the crash opened things up for Dungey, who was able to chase down Ryan Villopoto and win the race, making it four in a row. Reed's gutsy performance enabled him to retain the points lead, but it's now anyone's championship at the top, with just seven points separating Reed, Dungey and Villopoto.