Zero Coming To Dealerships
Chaparral Motorsports
|
July 13, 2011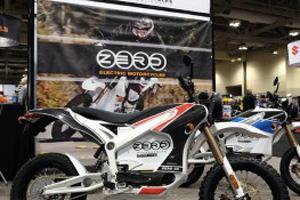 Electric bike manufacturer Zero Motorcycles has announced that it will soon be taking its product to dealerships, moving beyond the previous internet and phone-only orders to in-person sales.

"As we continue adding new motorcycles to our product line-up, consumers are looking to experience our products in more of a traditional retail setting that allows for them to touch and feel all of our bikes in one location and at one time," said John Lloyd, VP of Global Sales, Zero Motorcycles. "It has always been part of our strategic plan to add multi-line dealerships to the mix and the timing is now right for us to move in this direction."

The company has eight major dealerships onboard already and plans to add more in the future. Five of the dealerships are located in California, while the others are in Colorado, Michigan and Minnesota. The company is also looking to go to Canadian dealerships as well.

Previously, interested riders had to order online through the manufacturer's website, which was not ideal for those who wanted to test the bike before they made a purchase. The company had a number of representatives around the country who provided test rides for interested buyers, which will still be available for markets where Zero does not have a dealership.