Classic Win For Classic Marque At Mid-Ohio Sports Car Course
Chaparral Motorsports
|
July 11, 2011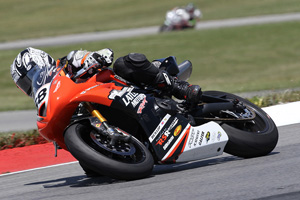 As the Mid-Ohio Sports Car Course celebrates its 50th year of competition, a legendary name in motorcycling won the AMA Pro Motorcycle-Superstore.com SuperSport race today. Dustin Dominguez, riding the Team Latus Motors Triumph Daytona 675, took the iconic brand's first win in AMA Pro Road Racing since 1999 when Curtis Adams won at Willow Springs Raceway in California. Second-place finisher James Rispoli, riding his Ant-Racing.com Star School Suzuki, maintained his East Division points lead and is in contention for the $25,000 season-end points fund from Motorcycle-Superstore.com.

Although Dominguez started today's race from the pole position, he suffered a sluggish start. Even so, he went on to win the 17-lap race by a margin of 8.080 seconds. Although Dominguez had won an AMA Pro road race back in 2009, he was particularly ecstatic over this victory on the Triumph.

"I just put my head down and said, 'I gotta catch (Rispoli),' " said Dominguez. "I knew it was a pretty big gap, but I just started creeping up a little bit and started to set him up. I followed him for a lap, ended up passing him, and figured we would have a race -- James had been on the gas all weekend. I just put my head down and tried to go as quick as I could. I got a little bit of a gap and started conserving tires, because I didn't want to throw anything away. We had a bad points weekend last round and we're just trying to get all the points we can, and this definitely helps... We got everything put together right and tried to ride a smart race, and everything just came together."

Although Rispoli led the first four laps, he settled into second place after Dominguez swept by him on the inside of turn eleven. He knew he'd have to work hard to hang on to that podium spot because he was under assault from Hayden Gillim on his Bell Helmets Yamaha. Despite this, Rispoli rode a smart ride to second position and maintained his points lead.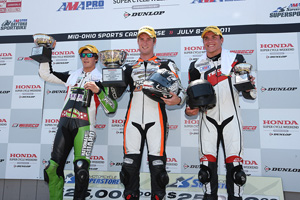 "I led the first four laps, and I thought I was running pretty good," said Rispoli. "I looked back once and saw (Dominguez) right on my butt, and I pretty much thought it was going to be a nice, clean race between me and him. He made a good move and for a couple laps there, I was able to hang. Then I had a little moment going through the Keyhole and tucked the front. I saw that we had a pretty substantial lead [over third], and it was going to be hard to reel him back in. I just had to conserve my tires and bring it home in second place for the points, and that's what we did. I saw those lappers at the end and knew [Gillim] was going to be on my back wheel and I was waiting for a move. I tried to get by the traffic in weird spots where he couldn't get by, and it looks like it worked. It was a good race, it just is what it is."'

Third-place finisher Gillim overcame a poor start that had him battling with the likes of quick-off-the-line Elena Myers (SuzukiScoopFans Racing Suzuki), LTD Y.E.S Racing Yamaha teammates David Gaviria and Tomas Puerta, Ohio rider Ryan Kerr (RFC-Digital Impressions Kawasaki) and Cory Alexander (Vesrah Suzuki). Gillim picked his way through the field, though, and was closing on Rispoli as the race wound down.

"I started third on the grid and didn't get a good start," said Gillim. "Then, going down the back straight, I lost a couple more positions, but eventually I got in a rhythm and started making passes. It was a hard run; it took me three or four laps to get from sixth to third, but after that I just tried gapping Gaviria and slowly reeling in James. Then on the last lap I thought I might be able to get him, but he was able to get by some lapped riders on the back straight and I wasn't really able to, then he just held his line the rest of race. It was a good race. I'm happy with how I finished, considering how I started. I was just going for it, [but] these guys did an awesome job."

Race 2 of the doubleheader Honda Super Cycle Weekend Presented by Dunlop Tire Motorcycle-Superstore.com SuperSport series will be tomorrow at 1:15 p.m. ET.

For ticket and event information, visit www.midohio.com. To learn more and be a part of AMA Pro Racing, please visit amaproracing.com and join us on facebook.com/AMAProRoadRacing and twitter.com/AMAProSBK.