Tech Tips - You Deserve A Brake
Chaparral Motorsports
|
July 5, 2011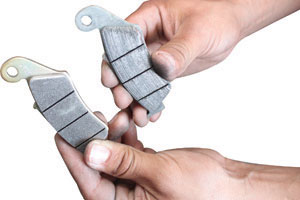 A guide to choosing and installing new brake pads.
You deserve a brake - and by that we mean a fully functioning brake system that will help keep you safe on the street or the dirt. In a rush to get out riding this spring, did you perform all the maintenance necessary? Keeping up a regular maintenance schedule is good for your bike, that's obvious. Key elements in this schedule - like brakes - are good for you, too.

Pad Preference
While different brake pad manufacturers use a variety of product names, these products can be put into one of two categories: metallic or organic.

Several unique varieties exist within these two categories, including different mixes of metals as well as individual organic elements - Kevlar® fiber materials, ceramic, and others. Most original-equipment brake pads are metallic - "sintered" metal, where metal powders can be formed into a dense mass to deliver improved properties of strength and heat dissipation, among other things.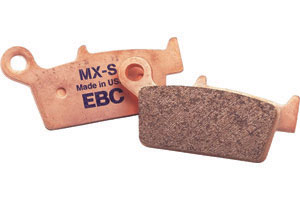 Sintered metal brake pads can be made from copper, bronze, carbon and other materials. They work well as OEM (Original Equipment Manufacturer) components for several reasons, mostly lower cost and excellent all-around performance for a variety of applications. Sintered metal pads - also called metallic or semi-metallic pads - can also be noisy and their high friction can cause rotors to wear more quickly.

Organic pads - which no longer contain dangerous asbestos - can consist of almost any natural element, including rubber, glass, and more. Some motorcycle riders say they prefer the "brake feel" offered by organic brake pads. Since these pads are generally softer than sintered metal pads, they create less noise but more brake dust (making you re-think those white wheels)! In some cases, "semi-metallic" brake pads may contain a blend of metal and organic compounds.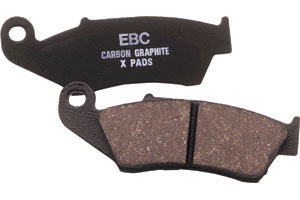 We chose OEM replacement brake pads for this project. They are designed to fit perfectly, just like when the bike was new, and they're always affordable. Aftermarket manufacturers, however, are delivering excellent brake pad options as well. EBC Brakes is one of the largest manufacturers of braking components, making its braking products among the most popular for all powersports vehicles. Bikemaster is another high-quality manufacturer of brake pads and other products. It also offers brake pad fitment for nearly every streetbike, dirt bike and ATV.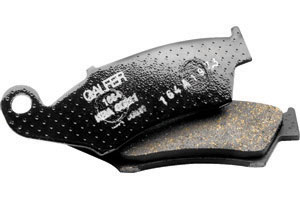 High-performance automobiles often use ceramic brake pads, known for tremendous heat dissipation and quiet, clean performance. Ceramics are becoming more popular in motorcycle brake pads. Galfer USA offers its Sintered Advanced Ceramic brake pads in a few different compounds. These pads are meant for aggressive street riding up to pro-level track competition. They are built to withstand high temperatures without transferring that heat to the caliper pistons.

Which should you choose? The majority of powersports vehicles will do well with sintered metal and semi-metallic brake pads. There are special cases where certain brake rotors work best with particular pads, like chrome rotors
and organic brake pads; if that's you, you already know.

EBC MX-S Race Pads
Sintered bronze for longer life. Specially designed for racers.

EBC Carbon Graphite "X"
For leisure/sport use. Lowest heat generation. Best for fast dry riding.

Galfer USA 1054 Semi-Metallic Carbon Compound Brake Pads
Works well in wet conditions as well as old conditions. Will withstand abrupt temperature changes allowing for a quick feel return.

ATVs & Street Bikes?
For most sport ATVs with disc brakes, changing brake pads is similar to the process outlined here with our Honda dirt bike. Even for many street motorcycles, installation of new brake pads can be done at home with standard tools and these same guidelines. With some street bikes, it's actually easiest to disconnect the caliper from its mount, then remove old pads and install new ones before re-mounting the brake caliper. Make sure to use a thread-locking compound when attaching the brake caliper. For high performance sport bikes, brake pad care and replacement can be a bit trickier. If you do any track riding, your bike's brake calipers will need regular cleaning to remove dirt and brake dust that can accumulate inside and restrict the movement of the caliper's pistons. In a brake system with four caliper pistons up front, this will help ensure uniform and consistent braking performance.

Now that you know how easy it is to maintain your brakes, you won't have to worry again about your bike's stopping power.

1. Out With the Old
Removing the old brake pads and inspecting the system.
The most difficult part of this job might be washing your hands when you're done. It's a simple and quick task. Combine that with the fact that the parts are inexpensive and easy to acquire, and you'll keep your brakes fresh from now on. We removed the front and rear wheels just for better photography; you can do this job with the wheels in place.

We started at the rear brakes by removing the brake pin. On our Honda, this required an 8 mm socket. On KTM off-road bikes, the caliper pin is secured with cotter-style pins. Remove the pin from the caliper and the old pads fall right out. Besides clear photo angles, removing the wheels allowed better cleaning and inspection viewing of the caliper. You want to look at the piston barrel for any
wear and cracking. You'll get a good view as you clean this area with a brake cleaner.

Considering the miserable condition of our brake pads - the "pad" was actually gone completely - the calipers on this bike were fine. While you're here, inspect the brake lines, hardware and all connections.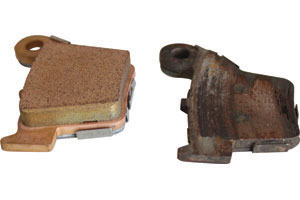 You can see in the photo how desperate we were for new pads on this dirt bike. We used Honda OEM replacement pads for this job (see the article on page 2-3 on OEM parts). Besides the perfect fit, we like that the pads already have a heat shield backer on them. You may have to remove the backing from your old brake pads to install it on the replacement pad.

The work is similar up front. A brake pin holds the pads in place, though on the front you first need to remove a screw-on cover that protects the actual caliper pin. Pull that pin, again with an 8 mm socket or cotter pins, and your old pads will drop out.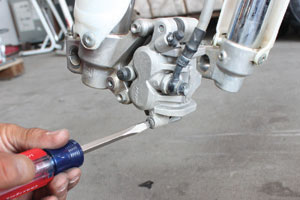 The front pads on this bike weren't too bad. They actually had enough pad material left that we could have re-used them. Those three grooves are wear indicators; if they're gone, that means there is not enough pad left to provide safe braking performance. Still, the lead edges of the pads were worn enough to toss them (look closely at the top of the old pad on the right). Some aftermarket brake pads use other ideas for wear indicators, including colored strips. Know what these wear indicators are when you install new brake pads.

Perform the same inspection up front, looking at the caliper components for wear, and checking on all hardware, lines and connections. Again, we did not need to remove the front wheel for this job, but it helped the inspection.

Install New Pads
After inspecting and cleaning, installation should be a simple task.
We started at the back again. The OEM pads also include a new O-ring for the brake pin, install that first and toss the old O-ring. Because the caliper piston had to press this bike's old brake pads so far, we had to depress the piston back into the caliper to make our new pads fit. Depending on the level of brake fluid, this may be difficult to do, and you may actually need to remove a bit of fluid. You should be able to move the piston with so the new brake pads - and the wheel's brake rotor - all fit in place. If you need to use a screwdriver to help move the pins protect the piston first using the old brake pad.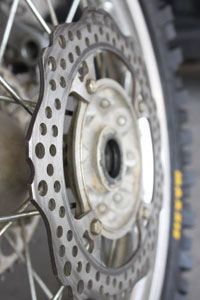 The process is the same for front and rear. Once the caliper is clean and you know the new pads will fit, install them with the brake pin and snug everything into place. Check your bike's Owner's Manual for torque specifications on the brake caliper pin.

Before your re-install the wheels, closely inspect the brake rotors. We were concerned about the rear rotor disc because of the extreme wear on our old brake pads. We checked for cracks and wear grooves. Some grooving is normal, and a service manual should list a rotor's wear limits. Look at the picture at right; while this rotor is aging, it's got a few more motos in it.



DuPont™ and Kevlar® are trademarks or registered trademarks of E.I. du Pont de Nemours and Company