Italians Do Well In Mugello Test
Chaparral Motorsports
|
July 1, 2011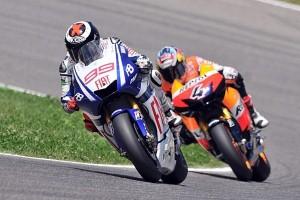 Even in a highly technical sport such as motorcycle racing, sometimes psychology can have an advantage - specifically in the area of home-track advantage.

Italian riders did well during the initial testing at Italy's Mugello track, with Marco Simoncelli topping the standings. Fellow Italian Andrea Dovizioso also did very well, ranking third overall.

Of course, the fact that these riders are familiar with the track also has something to do with it. Time will tell if the two riders will be able to put it all together with their home fans cheering them on.

Not every Italian rider did well. Valentino Rossi, probably the favorite among the crowd, continued his disappointing run on his new GP 11.1, which is essentially Ducati's 2012 GP model with a 2011 engine. The first time he tested the bike, he placed at the front of the pack. Then he turned in a poor race in Assen. Now in Mugello, the bike died on his first run on the track and his second time out netted him the 13th-best time, certainly not the kind of performance Rossi is used to.

Among non-Italians, points leader Casey Stoner continued his strong form with the second-best time. Jorge Lorenzo was in fourth, while last week's winner, Ben Spies, had the fifth-best time. The returning Dani Pedrosa was seventh-best on the day.