Tips From The Pros - Skid Plate Install
Chaparral Motorsports
|
June 30, 2011
A quick and easy guide to protecting your bike in minutes.
Even if you ride on the best-manicured supercross tracks, one wayward stone can spell disaster on the underside of your dirt bike. Of course, you could add protection plates to many parts of your off-road bike's chassis, but a good-quality skid plate that protects the underside of the engine is simply good insurance. Plus, it costs only about 100 bucks, and the extra weight is minimal - it probably weighs less than last night's dinner.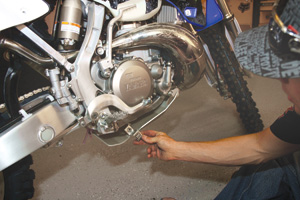 For our YZ250 project bike, we chose an [mageProductLink sku="351-1598" title=""]MSR skid plate[/mageProductLink]. It's made of aircraft-grade aluminum, and its welded-on wings offer an extra bit of protection for other vital engine covers, at least from objects that might fly up from below.

This skid plate comes with three installation brackets and the hex-head bolts to secure them. The brackets are U-shaped hooks that wrap around the bike's frame and include welded nuts for attachment.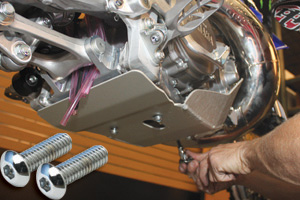 You'll probably look at the three simple U-hook brackets, scratching your head and saying, "How am I going to get that bracket around the frame and in the right position, when I can't get my hands in there at all?" We said that a few times until - like messing with a nearly completed Rubik's Cube - the bracket falls into place. Then you attach the hex-head bolts from the bottom-side, and the skid plate is installed. A hole in the plate gives you access to drain the bike's tranny oil.

Quick Tips
Lock down!
We recommend a bit of [mageProductLink sku="353-0415" title=""]thread-lock[/mageProductLink] on the bolts first, and you shouldn't need to mess with this bolt-on piece again.