See The Light - HID Lighting
Chaparral Motorsports
|
June 30, 2011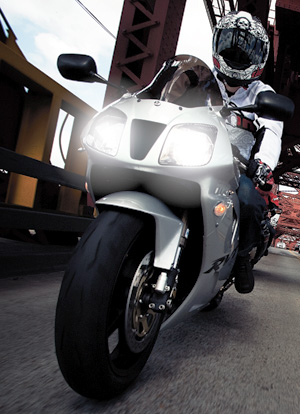 Motorsports is filled with numbers, initials and acronyms that can be confusing, or are simply left misunderstood. (The "W" in your motor oil's label means "winter," not "weight.") Maybe you don't need to know what they all mean exactly. But doing so can shed light on a product, pun intended.

HID means "high-intensity discharge." HID lamps create light from an electrical arc - not a heated filament - using gas and metal salts. It can take a couple seconds for this arc to stabilize and reach its ideal temperature, but when it does it creates a bright white light that is more intense than that created by a simple heated filament or even a halogen bulb. They need a high voltage pulse at start-up, then run efficiently at a lower voltage; they require an electric ballast to operate.

How bright are HIDs? Think football stadium lighting, which is most often of the High-Intensity Discharge variety. HID light technology is also used in indoor gardens, and in some new projection televisions. They emit a greater amount of light while using less electricity, and they can have a much longer life. And with no filament that can break even from excessive vibration, HID lights are treasured by off-road racers. But it's mostly about the light.

You've seen YouTube videos of off-road rally car races at night, where it really looks like daytime? That illumination is courtesy of HID lamps. It's like taking one of those banks of football-stadium lights and mounting it to the handlebars of your ATV or bike, or to the top of your UTV.

Most of these HID lights use Xenon gas to create their arc of light. Plus "xenon" is a cool name, sounds space-age, right? The problem is, some replacement bulb manufacturers like to use the "xenon" name with standard-filament products. And while such bulbs might produce excellent lighting, they're xenon only in name, and may not be true HID.

The light from an HID system is mostly white, though it can often have a bluish-white appearance. Those bright blue lights you see on so many sports cars are generally not HID, and they may not be legal for street use. Many HID lights promote a Kelvin (or K) rating. That denotes the color temperature and not a measurement of lighting power. On a scale from about 1,000 to 12,000, the "white" ratings fall between about 4,000 and 6,000. Any HID with a K rating much above 7,000 will begin to appear blue. Get too high on this K scale, and you'll run the risk of interaction with the law. Read on.

Here are some of our favorite HID products for off-road vehicles:
PIAA - Cross Country HID Lamp Kit
The PIAA Cross-Country HID Lamp Kit features small two-inch diameter lamps in aluminum housings behind a hardened glass lens. They use internal ballasts, and their small size makes them ideal
for mounting to any off-road vehicle.


Warn Industries - HID Light Kits
Warn Industries, venerable maker of winches and accessories for a wide range of off-road enthusiasts, offers HID light kits that can mount to your ATV, UTV or even an off-road motorcycle. The company's newest kits use HID lamps behind impact-resistant lenses, in aluminum housings and with integrated electrical ballasts. Most Warn HID lights run at about 5,500K.


Trail Tech - SC4 HID Lights
These self contained lights are incased in black gloss covers to keep out dust and grime. Round post mounts in any 3/8" hole to give more placement options on your vehicle. They produce a powerful 28" driving beam (halfway between spot and flood). Lumens: 2775-3235. Available in 30 or 40 watt options. With a depth 4.6" these lights are small but powerful.
Prices Starting at $179.99.

But What About Street Bikes?
Don't you hate it when there's a "but"?
When discussing HID lamps and street vehicles, there's a "but." When installed incorrectly, high-intensity discharge lamps can be annoying, particularly to oncoming motorists. I say, "offending" because the incorrect use of HID lights can be a violation of federal traffic laws.

In 2004, the National Highway Traffic Safety Administration (NHTSA) succeeded in a long-running effort to crack down on illegal application and promotion of HID Lighting, when it forced a Texas lighting manufacturer to recall and refund customers who bought its aftermarket automotive lighting equipment.

NHTSA said that these HID light kits, when installed in and used on motor vehicles, "can be expected to produce excessive glare to oncoming motorists and others." NHTSA has charged dozens of other companies with the same, and found many guilty of violating laws.

What are the laws?
Basically, it comes down to improper use of HID light components as replacement parts for stock equipment. Under the Federal Motor Vehicle Safety Standard No. 108 (FMVSS 108), Section 7.7, any replacement for stock headlights (in motor vehicles, including automobiles and street motorcycles) "shall be designed to conform to the dimensions and electrical specifications" ... and it gets more difficult to read from there.

Street Lights
Using HID lights the legal and safe way.
What does it mean? Street motorcyclists can enjoy the same benefits of HID lights, if they're careful. If you plan to install an "HID Conversion Kit" for use on a street-legal vehicle, it must be a real and complete replacement system that includes the necessary electrical ballast, the associated wiring, HID bulbs and perhaps new reflector/cover.

Many long-distance, touring and dual-sport motorcyclists will appreciate the benefits of the clean and bright illumination provided by HIDs.

HID lamps create a different light pattern than standard filament bulbs, and they require unique reflectors as well. The reflector or lens on an HID light kit is often a much different design than a standard headlamp lens. Instead of replacement reflectors, some HID kits include an adapter that sits behind the HID lamp to optimize its light through the stock reflector.

HID lights are most often replacements for only your vehicle's low-beam setting. The high-intensity discharge technology requires higher voltage to power up, so a quick switch from low to high-beam is difficult to attain,
especially with a street motorcycle's "flash-to-pass" switch. Replacement kits should allow you to leave your high-beam filament bulb in place, if your vehicle uses a two-bulb system in the stock headlamps.

Because HID lights can be so much brighter than standard filament-bulb headlights, properly aiming your new HIDs is vital for street motorcycles. You can be on the safe side and aim the new HID lamps a bit lower than your stock lighting.

Know the Light Laws
You may not like it, but there are rules. We suggest you obey them.
Know that your state has laws about headlights, running lights and turn signals. If you want to modify your bike's headlights or taillights, just make sure you check local regulations first. In California, for example, The law says: "Any motorcycle may be equipped with a means of modulating the upper beam of the headlamp between a high and a lower brightness at a rate of 200 to 280 flashes per minute. Such headlamps shall not be so modulated during darkness."

Also: "The emitted light from all lamps and the reflected light from all reflectors, visible from in front of a vehicle, shall be white or yellow, except as follows...." And: "The emitted light from all lamps and the reflected light from all reflectors, visible from the rear of a vehicle, shall be red except as follows...."

What else do you need to know? The California Vehicle Code also prohibits many types of flashing lights. "Flashing lights are prohibited on vehicles except as otherwise permitted." Those permitted include emergency "hazard" lights, turn signals, and flashing lights used by emergency vehicles like ambulances and fire trucks. Headlight "modulators" that flash from regular to bright and back are allowed only during daylight hours, they are not allowed for use during darkness.

Check the laws in your own state. Florida, for example, does not allow use of blue lights, except for police officers' vehicles. You can add accent lighting and have a lot of fun with it, just turn these extra lights off when you're riding.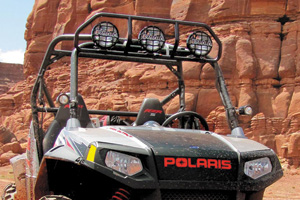 PIAA - M3 & M4 Pre-Wired UTV Light Bar
Pre-Wired with marine grade 14 guage wire. Pre-terminated wired with waterproof bullet connectors. Powder coated for long life, good looks, and durability. Made from 1" thick wall cold rolled steel tubing and tig welded for strength. Billet aluminum mounting brackets with adjustability for different sized tubing. Can Be mounted with most aftermarket roofs.
Call for applications. Starting at $424.59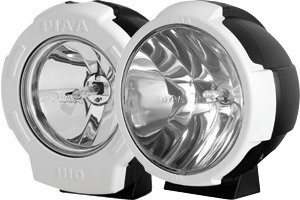 PIAA - RS400 and RS600 HID Shock Lamps
Whether your racing across Baja or simply traversing your favorite back road the new RS400 and RS600 HID Shock lamps prove worthy. Features an internal ballast, unmatched duarbility and legendary PIAA HID illumination. Engineerd to perform anywhere, at any time and in any condition. Black polyamide with glass fiber housing, hard clear coated lens and multi-surface reflector. 20˚ HID long range driving beam pattern.
Starting at $398.99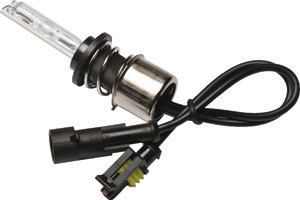 PIAA - UTV HID Conversion Kits
Easy installation is a hallmark of PIAA and HID headlight conversions are no exception. Comes with the most compact and lightest ballast of any conversion kit available making it easy to install. Relay harness provides protection for switches and draws power directly from battery for maximum performance. Direct factory replacement headlights system and will fit most ATVs and UTVs available today. Includes bulbs, ultra thin ballast, igniters, relay harness, hardware harness ties and installation manual. 35 Watt, 6000K (Kelvin).

Call for applications. Starting at $147.99