Give Em' The Boot - A Pro Guide To Keeping You On Your Toes
Chaparral Motorsports
|
June 29, 2011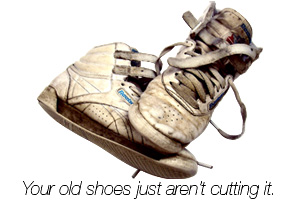 When I was a kid, the sportbike riders would circle the city parks all summer, their Adidas hightop basketball shoes worn loose with tongues flapping (the shoe's, not the rider's). Of course, a lot of them wore short pants and t-shirts, too. But the footwear struck me. A motorcyclist in the '80s had far fewer footwear options, that's true. Though I still see some poor choices made today.

You don't need to spend $500 on track-ready riding boots made of exotic materials, unless you want to, of course! But seriously, even street-bike riders need the right footwear, for comfort and for safety.

A Good Foot Forward
Motorcycle-specific boots and shoes do several things that your basic skateboard shoes and loafers cannot do. The good news? Venerable motorcycle gear manufacturers are now offering purpose-made riding shoes with prices beginning at $100. Sidi, Alpinestars, Joe Rocket, Shift Racing and others offer this footwear - in styles that can work as well off the bike as on.

It's about safety first, of course. Your shoes need to grip the bike's footpegs enough to maintain that ride stability. This vital part of the riding triangle - footpegs, seat, handlebars - cannot be compromised, and cannot be satisfied at Famous Footwear. Your work shoes with the leather soles will not grip the footpeg.

Good motorcycle shoes will support your ankles. Boots made for racing and track riding may take this to the extreme - for the right reason - by wrapping your ankle and lower leg with internal ankle-brace systems. That may not be necessary for your commute, but you do need to protect your ankles in case of a fall or even a loss of balance at a stoplight. Also, the higher your riding boots go, the better to protect your leg and ankle from engine heat.

You also need to protect your toes, and this will be the biggest weakness in the casual footwear found in your closet. Even simply riding through the neighborhood, I've turned a corner and dragged my toe on the pavement. If you've ever scraped your footpegs through a corner, you've done the same, and scraping your toes is not fun when wearing loafers. Good motorcycle riding shoes are built with toe protection. Some use internal reinforcements and some use replaceable plastic toe sliders.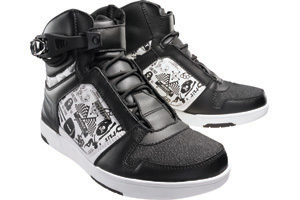 A couple other nice features on motorcycle-specific riding shoes: toe-shifter padding, reflective areas, methods to secure laces from catching on footpegs or brake pedals, maybe even ventilation.

Here are just a few of my favorite low-cut shoes built specifically for motorcycle riding. I would wear any of these for a day at the office or even a casual night out. And they all cost less than $175.

[mageProductLink sku="1407.0600.1.11" title=""]Shift Racing Kicker Shoe[/mageProductLink]
$129.95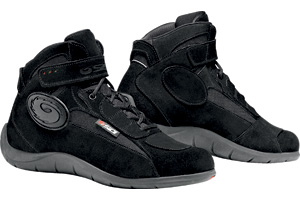 [mageProductLink sku="043-0207" title=""]Sidi Doha Boot[/mageProductLink]
$170.00






Low cut design

Heel reflective stripe

Leather toe shift pad

Double stitched in high stress areas

Lace and Velcro® closure

Leather/Cordura upper




The Sidi Doha boot (named for the capital city of Qatar, perhaps?) is a super-durable low-top that could even be tough enough for light-duty dual-sport riding. The upper uses a combination of leather and tough Cordura nylon. Inside, it features a reinforced heel cup and toe areas. High-stress areas get double stitching. The sole is a tough non-slip rubber. And the heels have a reflective stripe to increase your visibility - every bit helps. A hook & loop strap across the top keeps your foot - and the shoelaces - firmly in place.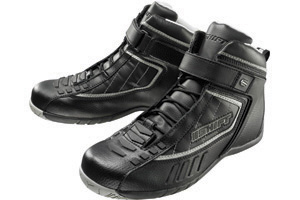 [mageProductLink sku="57070-001-063" title=""]Shift Racing Fuel Street Shoe[/mageProductLink]
$99.95






Leather/Synthetic leather chassis

Reinforced interior midsole

Moisture wicking interior

Non-Slip Sole




Available in Black or White, the Shift Racing Fuel street shoe looks like many of today's high-top athletic shoes, but it includes motorcycle-specific features. The midsole is reinforced to provide security when you're on the footpegs. And the sole provides traction when you're off the bike. Rubber on the toe area helps with shifting. The shoes use a speed-lace system for easy on and off, plus an ankle strap gives a secure fit and holds the lace ends down.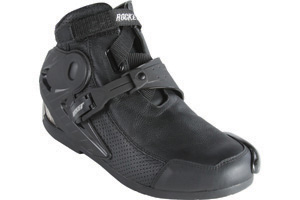 [mageProductLink sku="225-9057-10" title=""]Joe Rocket Pro Street Boot[/mageProductLink]
$169.99






Leather construction

Padded ankle area

Adjustable ankle strap

Inner sliders




The Joe Rocket Pro Street boot gets its name from NHRA's Pro Street racing class, and this boot has features like many full-length motorcycle boots. It uses an ankle-strap closure with an adjustable aluminum buckle. It uses plastic reinforcements for durability and safety, plus perforated ventilation holes for comfort. The ankle areas are padded, and the boot's toe sliders are replaceable.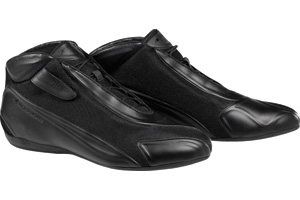 [mageProductLink sku="020-3405-0268" title=""]Alpinestars Vise Vented Shoe[/mageProductLink]
$159.95






Mesh main upper construction

Pigskin collar and tongue

3D mesh inner lining

Foam ankle inserts

Inner heel counter and toe-box reinforcement

Steel shank inserts




With Italian style, the Vise Vented riding shoes can be worn anywhere. For motorcycling, they shine with a sturdy sole supported by steel shank inserts under an anatomical footbed. The mesh upper is built to be tough and to provide ventilation that makes these shoes ideal for summer riding weather. The shoe's toe areas are reinforced for durability. And a "lace lock" hook & loop tab secures ends of laces so they remain out of the way. These shoes are about as low as you can go and still get some ankle protection.