2011 AMA Pro Motocross Thunder Valley Results
Chaparral Motorsports
|
June 27, 2011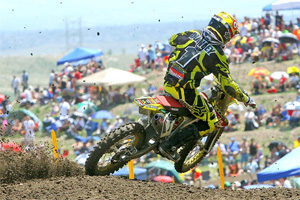 Dungey and Suzuki Win Thunder Valley
Team Rockstar Makita Suzuki's Ryan Dungey scored his first overall victory of the season at the fifth round of the 2011 AMA Pro Motocross Championship at the Thunder Valley National in Lakewood, Colorado on Saturday.


Both Dungey and team mate Brett Metcalfe put their Yoshimura-equipped Suzuki RM-Z450s to the test in the gruelling, high-altitude conditions in front of a packed crowd at Lakewood. Dungey rode two great races, claiming a second and first to come away with the overall win. Metcalfe once again had to work his way through the pack in both motos to grab a seventh-placed overall finish for the day.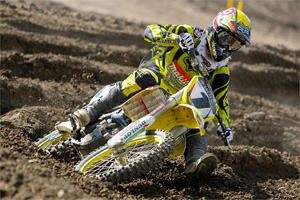 Dungey was strong from the get-go in Colorado. The Rockstar Makita Suzuki rider qualified with the second fastest time and had great starts in both motos. In moto one, Dungey was tight with the front group and in fourth place after lap one. By lap three, he was able to pull into third and put his head down to power his RM-Z after second. On lap nine, he made the pass for second, but by that time, the leader had built a pretty large gap and he had to settle for a second-place finish. In moto two, Dungey launched his RM-Z450 out of the gate and quickly into second. By lap three, he was able to pass for the lead and never looked back, claiming the second moto win and overall victory for the day. Dungey remains third in the Championship points race but picked up a valuable seven points from the leader.


"It means a lot to get this win," said Dungey. "We're five rounds in and I wish it could have come earlier, but that's racing. I have to give it up for Team Rockstar Makita Suzuki; we've all been working our butts off. This win feels really good - I'd like to keep continuing it. My RM-Z450 was awesome. I want to thank the man above and my whole family - it feels good to get this one. I'm looking forward to Redbud. It's a great track and one of my favourites. I was able to pull off wins in both motos there last year. Hopefully we have a little momentum from this one and I can pull off a couple more."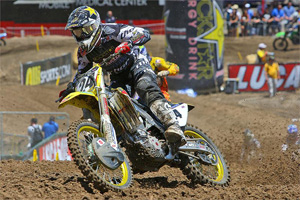 Metcalfe started the day with the fourth fastest time in qualifying. The Rockstar Makita Suzuki rider suffered a bad start and a tip over in the first moto but was able to use the power of his RM-Z to work from near the back of the field to card a ninth-place finish. In moto two, Metcalfe had a better start but got caught up in a turn two incident and again had to work his way up from near the back. The Rockstar Makita Suzuki rider rode solid and put in some great laps to cross the line in seventh, which was good enough to give him a seventh-place overall for the day. Metcalfe sits sixth in the championship points but just one point out of fifth and four points out of fourth.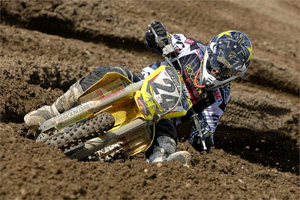 "It was a pretty good weekend in Colorado," said Metcalfe. "Riding-wise, I was happy. I had a bad start and a small crash in the first moto. I was just really far back and Thunder Valley is a technical track. And with the altitude, the bikes are slower, so it's really difficult to make up time. Unfortunately, not a good result with a ninth, but from where I came from, my riding was good. The second moto I got a much better start, but I got caught up in a bit of a pile up in the second corner, so I ended up at the back again. I was pretty frustrated, but I rode good that second moto and my Rockstar Makita Suzuki was working great. My team made some adjustments that really helped me in the second moto. I'm looking forward to Redbud. Everyone likes Redbud - it's an awesome track and I feel really comfortable on the bike now and feel strong. I really need to get the starts there and give myself a chance to run up front."


The Rockstar Makita Suzuki team's next event is the sixth round of the 2011 AMA Pro Motocross Championship on Saturday, July 2nd, at the Rockstar Energy Drink Redbud National in Buchanan, Michigan.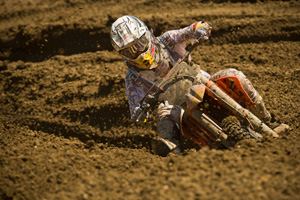 Short Finishes 5th at Thunder Valley

Red Bull/KTM Factory rider Andrew Short finished 5th overall at the fifth round of the series, and his hometown race, held at Thunder Valley MX Park in Lakewood, CO.


Short got a decent start in the first moto coming around the corner in 10th position. He rode a solid pace, picking off a few riders throughout the laps. He eventually moved up to 7th by the moto end.


"I was happy with my first moto considering I wasn't feeling that good at the start of the race,
 remarked Short. "I had a pretty big get off in practice and it took me a while to recover from it. I was still shaken up from it at the start of the first moto and I struggled a little bit."


Short repeated his first moto start in the second moto rounding the first corner near the top ten. "I was feeling worse in my second moto as the side effects from the earlier crash were really starting to kick in. It was hard to pick up my pace during the second moto." Short continued to push as hard as he could and managed to climb up to 8th. His 7-8 moto scores earned him an impressive 5th place result. "Overall, I'm happy to finish the race without any major injuries or issues. This is one of my favorite tracks and I had a great time today."


The second member of the team, Mike Alessi, suffered an unusual poor start in the first moto. He came around the first turn around 20th but made an impressive charge through the pack earlier on. By the end of the first lap he had moved well into the top ten and was sitting in 6th. He moved up as high as 4th during the moto before losing one position to Kevin Windham at the end of the race. He finished the first moto in a solid 5th position.


In moto number two, Alessi got off to a goodnstart inside the top five. In the second corner his front tire clipped the rear wheel of Ryan Villopoto's bike as the two riders battled for a lead position. The contact caused Alessi to crash hard. Alessi took a few moments to recover and eventually ended up pulling off from back pain. After the moto, he reported that his back is slightly swollen but that he will be okay to race for the next weekend.


Next Event: Red Bud - July 2, 2011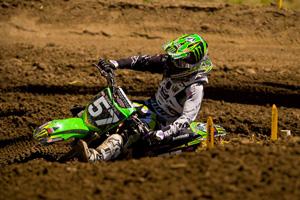 Baggett Wins as Rattray Stumbles in Colorado

Tyla Rattray held the edge in the 250cc Lucas Oil AMA Pro Motocross Championship going into this weekend's races in Colorado, but he was ultimately unable to hold on to the lead after a disappointing performance.

Rattray was only able to muster up two fifth place finishes over the weekend, which left him off of the overall podium and allowed Dean Wilson to seize control of the standings.

Wilson, however, ultimately wasn't the best rider this past weekend either. That honor went to Kawasaki's Blake Baggett, who dominated both races on his way to an overall victory. Despite winning his third race of the season, Baggett was surprised that he ultimately pulled it out.

"I didn't think it was going to be my day after practice," said Baggett. "The bike just never felt good. I went into the race open minded and once the laps wound down, I just kind of began to get more comfortable and kept it going from there."

Wilson was able to finish second in both races, giving him the points lead when coupled with Rattray's disappointing races. Wilson holds an eight point advantage over Rattray, who is in turn 12 points ahead of Baggett.

Thunder Valley 450 Class Overall Results:

1. Ryan Dungey

2. Ryan Villopoto

3. Chad Reed

4. Kevin Windham

5. Andrew Short

6. Tommy Hahn

7. Brett Metcalfe

8. Christian Craig

9. Jake Canada

10. Justin Brayton

2011 Motocross 450 Class Standings:

1. Chad Reed 223

2. Ryan Villopoto 215

3. Ryan Dungey 202

4. Kevin Windham 148

5. David Millsaps 145

6. Brett Metcalfe 144

7. Ricky Dietrich 109

8. Andrew Short 102

9. Jake Weimer 100

10. Christian Craig 97

Thunder Valley 250 Class Overall Results:

1. Blake Baggett

2. Dean Wilson

3. Eli Tomac

4. Darryn Durham

5. Tyla Rattray

6. Ryan Sipes

7. Malcolm Stewart

8. Travis Baker

9. Justin Barcia

10. Alex Martin

2011 Motocross 250 Class Standings:

1. Dean Wilson 214

2. Tyla Rattray 206

3. Blake Baggett 194

4. Eli Tomac 176

5. Justin Barcia 137

6. Kyle Cunningham 127

7. Broc Tickle 113

8. Gareth Swanepoel 106

9. Darryn Durham 94

10. Cole Seely 89