Simoncelli, Rossi And Stoner Top Assen Test
Chaparral Motorsports
|
June 24, 2011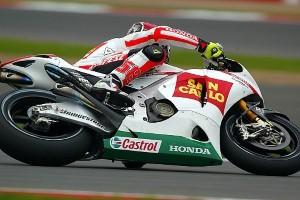 MotoGP riders were only able to get in one round of testing on a wet track at Assen before weather called off the rest of the day, but Marco Simoncelli was able to top the field with the fastest time.

With a time of 1:49.036, the San Carlo Gresini Honda rider was able to beat the rest of his competitors in their first time on the track this season. While Simoncelli has tested well thus far this year, he's had trouble putting it all together on race day.

Valentino Rossi looked threatening on his new GP11.1, which uses Ducati's GP12 carbon fiber chassis with an 800cc engine approved for this year's round of racing. Ducati is the first company to combine their 2012 technology with a 2011 bike, and it appears to have paid off for Rossi thus far.

"We only had one practice session with the new bike, so it's very early to make a full verdict, but the first feelings are certainly positive," Rossi said in a Ducati release. "The GP11 also went well in the wet, but the GP11.1 didn't just maintain the positive aspects; I actually liked it a little bit more, so I'm curious to also try it in dry conditions."

Of course, all eyes are on series points leader Casey Stoner, and he continued his fine form during the practice, with a third-place finish, just over .1 seconds behind Rossi.