Chaparral's New Facebook Apps Make Online Shopping Easy
Chaparral Motorsports
|
June 22, 2011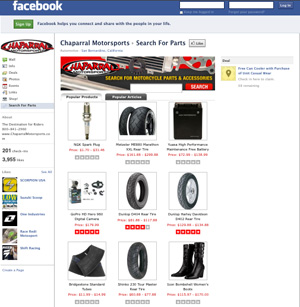 ChaparralMotorsports.com is coming to Facebook, via two new apps that have been installed on the main page
In the digital age, more riders are turning to the internet as the quickest and easiest way to fulfill all their purchasing needs. Chaparral Motorsports has been at the forefront of this movement, offering a full inventory of motorcycle and ATV parts, accessories and models through their website, ChaparralMotorsports.com.


Now, the full power of ChaparralMotorsports.com is coming to Facebook, via two new apps that have been installed on the main page. Chaparral's Facebook page already has thousands of fans, and these dedicated riders will now be able to see all the latest product offerings without having to leave the social media site.


"Our primary marketing goal for using Facebook is to create a conversation with our customers. We have found that our Facebook friends are existing customers and the addition of these apps extends a value to their experience with our brand," says Chaparral Motorsports VP of Marketing, Crystal Ashby. "These apps create a unique opportunity to connect with more motorcycle parts and accessories shoppers."


The first app is an online motorcycle and ATV vehicle showroom that will allow users to browse all the latest makes and models. Several featured products are highlighted at the top of the page, including popular bikes like the Honda Fury, Yamaha YZ450F and Kawasaki KX250F, as well as three-wheeled motorcycles like the Can-Am Spyder RT-S SE5.


On the second app, riders in the market for parts and accessories can search Chaparral's entire inventory to see what's in stock. From there, it's just a few clicks of the mouse and before you know it, the necessary parts show up on your doorstep.


The second application also includes links to some of the more popular articles originally posted on the main website, so shoppers can keep up-to-date on all the latest product offerings.


This development certainly looks like it will be a welcome one for the thousands of riders who have already "liked' Chaparral Motorsports on Facebook, and those who are learning about the social media page for the first time should be sure to visit and check it out, as the page also provides updates on the latest events and sales.


Chaparral Motorsports® is recognized as one of the largest motorcycle accessory and vehicle dealerships in the country. Chaparral Motorsports now encompasses a 160,000 square foot footprint. Started as a family motorcycle parts business, Chaparral Motorsports® has developed into a multi-line motorcycle and ATV dealer, offering Honda®, Yamaha®, Kawasaki®, KTM®, Suzuki®, Can-Am, Victory®, Polaris® and Kymco ATV's, motorcycles, and utility vehicles. Check http://www.ChaparralMotorsports.com for more news and information.