2011 AMA Superbike Birmingham Results
Chaparral Motorsports
|
June 21, 2011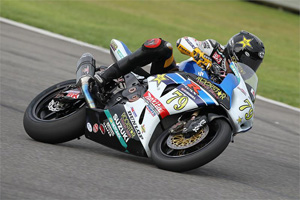 Rockstar Makita Suzuki Win at Barber
Team Rockstar Makita Suzuki's Blake Young had a lot to celebrate after this weekend's AMA Pro Superbike races at Barber Motorsports Park in Birmingham, AL. The young rider rode smart in the rain on Saturday and picked up a podium finish, and then went all out on Sunday and carded the win. This win marks Young's fifth AMA Pro Superbike victory of the season and moves him to within a mere two points of the overall championship points lead.


On Sunday, Young got a great start on his Yoshimura-prepped Rockstar Makita Suzuki GSX-R1000 and was running second behind team mate Tommy Hayden. When Hayden unexpectedly pulled out of the race, Young took over the lead and didn't look back. He made no mistakes and took the chequered flag with style. On Saturday, a mid-race rain shower resulted in a red flag and a switch to rain tyres. When the race was restarted, Young, who'd been running second prior to the red flag, got another good start on his GSX-R1000 and took the lead. He battled to stay up front and wound up as part of the Suzuki sweep of the podium finishing in a solid third place.


"For me, the weekend went really, really well," said Young. "We got off to a slow start but then showed that our Rockstar Makita Suzuki team is really strong. In Saturday's wet race, we got a good start and I just tried to have as much fun as I could and ended up third. On Sunday, I knew we had a good set-up and was looking forward to the race. I got another good start and got behind Tommy, who was setting a fast, comfortable pace, which made life a little easier for me. I ended up getting up front, and I was confident in my GSX-R and my tyres and equipment to pull out the win. It was a tough weekend, but we had great results. I'm happy to win this one and happy for my team."


Hayden, however, had a rough weekend at Barber. Wanting to earn as many points as possible on Saturday, Hayden rode conservatively in the wet race and finished seventh. On Sunday, the Kentucky native got a great start and was leading the race for the first nine laps when a rare mechanical mishap caused him to DNF.


"It was a fairly disappointing weekend," said Hayden. "We were fast but we don't have any results to show for it. Saturday, when it was dry, I was leading and I felt like I had a good chance to fight for the win. Then it started raining, and I didn't feel comfortable at all. Today, I felt good and I led for nine laps, and I was in good shape for the race. Unfortunately, we had some kind of freak mechanical incident; this is the first time I've ever had a mechanical issue in a race since I joined the Rockstar Makita Suzuki team. They're a top-notch group of guys working on my bikes, this is a very rare incident for us and I don't expect anything like this to happen again in the future. We have a lot of races left and now I'm just looking forward to having another chance at it at Mid-Ohio."


The 2011 Rockstar Makita Suzuki team's next event of the 2011 AMA Pro American Superbike Championship series is at the Mid-Ohio Sports Car Course in Lexington, Ohio on July 8-10th.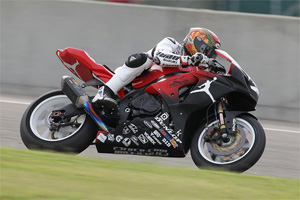 Bostom and Suzuki Podium at Barber

The Michael Jordan Motorsports team celebrated a podium finish for Ben Bostrom during a hot and steamy weekend at Barber Motorsports Park in Birmingham, Alabama while his team mate, Roger Lee Hayden joined Bostrom in front-of-the-pack racing during the fifth stop of the 2011 AMA Pro National Guard Superbike Championship.


Bostrom's second place was the MJM team's best result of the season and was part of a Suzuki sweep of the podium in Saturday's race, underlining the team's significant progress in setting up their potent Suzuki GSX-R1000s.


After a red flag was thrown for a brief rain shower, Saturday's race was restarted and Jordan Suzuki's Ben Bostrom quickly moved into the lead pack. With eight laps remaining, Bostrom took over second place. On Sunday, Bostrom followed Hayden up to the lead pack and finished in a solid fifth place, which also moved him up to fifth place in the Championship.


"A huge thanks to the Jordan Motorsports boys," commented Bostrom. "The results were not what I hoped, but the bike has really come together and now the rider has to step it up. We've struggled for a few events for sure and it's nice to have fun riding again. We've got a few weeks off to ready ourselves for Mid-Ohio, where I'm sure the Jordan bike should be at the front. The bike is ready, the rider needs a little work and we will have a winner. I like Mid-Ohio and so do the Suzukis, so let's see if we can sweep another podium in three weeks."


In Saturday's red flag-interrupted race, National Guard Jordan Suzuki rider Roger Lee Hayden ran with the leaders in the dry, then again moved to the front and led the race on the wet track before sliding back to a sixth-place finish. On Sunday, Hayden used his front-row starting position to get away with the leaders, running with them in fourth place until he crashed, unhurt, in turn one at the start of lap 14. Hayden remains in seventh place in the championship points race.


"We qualified on the front row and had a pretty good pace going before the red flag," said Hayden about Saturday's race. "When the rain came, I just didn't have a good feeling with the rain tyres. In Sunday's race, I got a decent start and was right there with the top three guys and then I made a huge mistake. I went back an extra gear for turn six and had to run through the grass, and I fell back to sixth. I put my head down and ran the leaders down, caught them with seven laps to go, and made a mistake going into turn one. The back end came around on me and that was the end of my race. Hats off to the team; they're really working hard and every weekend is getting better."


The Michael Jordan Motorsports team's next event of the 2011 AMA Pro National Guard Superbike Championship series is at the Mid-Ohio Sports Car Course in Lexington, Ohio on July 8-10th.

Barber Superbike Results, Race 1:

1. Martin Cardenas

2. Ben Bostrom

3. Blake Young

4. Josh Hayes

5. Larry Pegram

6. Roger Hayden

7. Tommy Hayden

8. JD Beach

9. Trent Gibson

10. Jeremy Toye

Barber Superbike Results, Race 2:

1. Blake Young

2. Josh Hayes

3. Martin Cardenas

4. Steve Rapp

5. Ben Bostrom

6. Larry Pegram

7. Geoff May

8. Chris Clark

9. Chris Peris

10. JD Beach

2011 Superbike Class Standings:

1. Josh Hayes 235

2. Blake Young 233

3. Tommy Hayden 182

4. Martin Cardenas 155

5. Ben Bostrom 130

6. Larry Pegram 125

7. Roger Hayden 106

8. Chris Clark 103

9. Steve Rapp 95

10. Geoff May 82