Pedrosa Undergoes Surgery Again, Likely To Miss Third Race
Chaparral Motorsports
|
June 16, 2011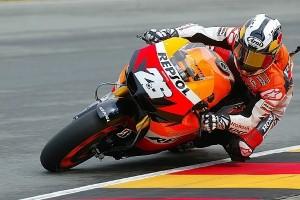 Dani Pedrosa's recovery from his previous crash with Marco Simoncelli isn't progressing as quick as the Spanish rider hoped - it turns out he needs more surgery to repair the broken collarbone that he suffered during the collision.

Doctors found that a small fragment of bone has moved out of place after the first surgery. The injury would heal on its own, but to speed up recovery, Pedrosa will be going under the knife once again to put the piece back into place.

The controversial crash with Simoncelli has been on the mind of many MotoGP fans since it happened. Some believe Simoncelli acted recklessly, while others put the blame on Pedrosa. The rider has already missed two races and will likely now miss a third due to this later development, all but ending his hopes of a championship this season.

Pedrosa pulled no punches in saying that he believed his championship run was over, and said that MotoGP Race Direction should have punished Simoncelli more severely for the crash.

"I would have acted differently than the Race Direction did," he said. "In my opinion, I would have nipped it in the bud from the beginning. I would have made a severe decision to make sure these things can't happen any more, but they decide for us. My situation is that someone threw my championship away, and it's hard to swallow but something I have to accept."

Simoncelli has apologized to both Pedrosa and the fans for the incident.