Wyman Gets First Win During Crash-Filled Supersport Race
Chaparral Motorsports
|
June 7, 2011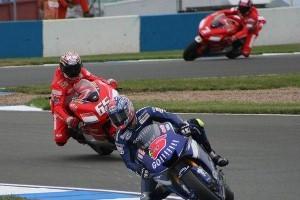 It's always nice to see a racer get their first career win, and that's exactly what happened for Travis Wyman at the AMA Supersport race at Road America in Wisconsin.

Wyman was putting in some significant work to get his first win. In fact, the rider had just raced (and placed third) in the Vance and Hines XR1200 race moments earlier. Wyman actually had to skip the podium festivities for that race in order to hop on his Yamaha YZF-R6 and compete in the Supersport race.

The early moments of the race looked like it could be anyone's event to win. However, multiple crashes ultimately marred the finish, with many of the leaders being taken out of the competition. In the end, Wyman was all by himself at the front of the race.

Dustin Dominguez finished second on his Triumph, while Yamaha rider Tomas Puerta finished third. Female phenomenon Elena Myers was able to capture fourth in the race.

There was no real shakeup in terms of the overall standings, as most of the top riders crashed out of the race. David Gaviria remains on top despite not finishing, while Benny Solis and Corey Alexander, in 16th and 17th on the day, are behind him in second and third, respectively.