Hayes Tops Young In AMA Superbike
Chaparral Motorsports
|
June 7, 2011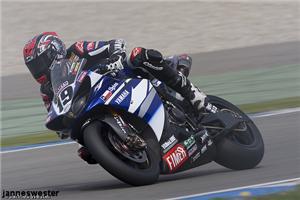 Yamaha rider Josh Hayes was able to top a whole pack of Suzuki riders to win the second race of the weekend at the AMA Superbike competition held at Road America in Elkhart Lake, Wisconsin.

Going into Sunday's race, Hayes was tied with Blake Young, who had won the previous race on Saturday and last Sunday's race at Miller Motorsports Park. However, Hayes was able to best his rival on Sunday to take sole possession of the points lead.

Hayes wasn't able to grab the holeshot immediately, falling behind four Suzuki riders: Young, Tommy Hayden, Roger Lee Hayden and Martin Cardenas. One by one, however, Hayes was able to move past them, eventually earning himself a three-second lead.

"Today, I got the passes done in the right places, I gave myself the opportunity to make the split," said Hayes. "I was confident that I had the tools in my package and the motorcycle to make it happen. I got to a point where I could relax a bit, make sure I didn't make any mistakes and bring it home."

Beyond simply grabbing the win, however, Hayes was able to really pull past Young in the points race. Tommy Hayden ended up a tenth of a second faster than Young, leaving them in second and third. That gives Hayes a ten-point lead over Young going into next weekend's races.