Stoner, Honda, Dominate Catalunya Test
Chaparral Motorsports
|
June 3, 2011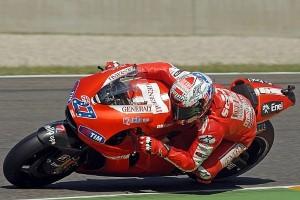 Repsol Honda's Casey Stoner has been dominating the MotoGP season thus far, and if Friday's test was any indication, it looks like that trend will continue this weekend in Catalunya.

Stoner was once again the fastest in testing, and Honda continued its dominance of MotoGP with the top three times. At this point, it appears as if Honda is simply the fastest bike on the track right now, and the other manufacturers will have to make some tweaks before the Honda team runs away with the competition.

Track conditions were affected by light rain, which caused teams to shift between wet and dry motorcycle tires. Despite this, Stoner had the fastest time in both sessions, trailed closely by San Carlo Honda rider Marco Simoncelli. Stoner's Repsol teammate, Andrea Dovizioso, was in third, while Jorge Lorenzo was the fastest non-Honda rider on the track.

"We're quite happy with the day, unfortunately we didn't get a lot of good wet or dry track time so a lot of time was wasted in changeable conditions and not achieving much," Stoner said in a team release. "However, in general we got a pretty good feeling with the bike and everything seems to be working well. "

Stoner also said that a physical condition could potentially hinder him during the race.

"I've got blocked sinuses, which doesn't help when I'm trying to concentrate and my ears are popping but I'm trying to put this to one side and concentrate on the job at hand," he revealed.