Checa Excises Miller Motorsports Demons With Double Win
Chaparral Motorsports
|
June 1, 2011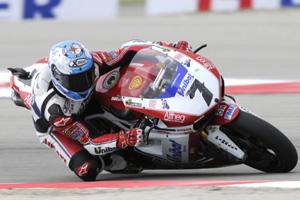 Going into this weekend's race at Miller Motorsports Park, all eyes were on Carlos Checa after a disastrous weekend at the same track last year ruined his chances at a World Superbike Title.

Checa had the points lead going into the two races held at Miller in 2010, and was in the lead on the first race when his bike suffered an unknown mechanical problem, forcing him to retire and take a "did not finish" (DNF). Checa returned on the second day, only to suffer the exact same fate - forced to drop out after shooting to the front of the pack.

Double DNFs in one weekend is sort of like a shotgun blast with both barrels - some riders can survive one DNF, but two means that other racers will gain some serious ground on you in the points standings. So it's safe to say Checa wanted to put things behind him for this weekend.

Fortunately, the Spaniard did just that, giving racing fans the chance to see what would have happened had his engines not failed him. Checa raced perfectly over the weekend en route to scoring back-to-back victories in both races.

Leon Camier was able to snag second place, while reigning champion Max Biaggi finished third.

Checa now has a commanding points lead in the World Superbike standings, as he is 61 points up on Marco Melandri with eight races to go.