Aerostich Releases Touchscreen Gloves, Solar-Charging Kit
Chaparral Motorsports
|
June 1, 2011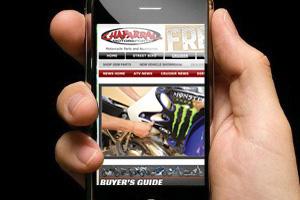 There's no doubt that electronic devices can be a rider's best friend out on the road. Whether you need to look up directions or the nearest restaurant, a smartphone or other internet-capable gadget can truly help riders out.

With that in mind, many technologically-adept riders may have noticed that their gloves aren't quite up to the task of dealing with the touchscreen of an iPhone or Android device. That's why Aerostich has released a new version of their Elkskin Riding Gloves specifically with these devices in mind. The gloves are able to work with any touchscreen-enabled device easily and without smudging - something that most leather gloves can't claim.

The reasoning is that these gloves have electro-conductive stitching that allows riders to easily interact with these phones. That makes them a bit more expensive than normal motorcycle gloves - it's $57 for a pair.

Aerostich appears to be cornering the market on motorcycle accessories that support other electronic devices, as the company has also released a new solar charging kit that uses several solar panels to recharge a pair of batteries. The batteries are connected to a USB port, so it's compatible with most devices.