Windham Talks Injury, Outdoor Season
Chaparral Motorsports
|
May 24, 2011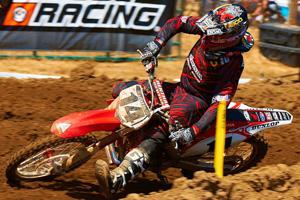 Veteran rider Kevin Windham is always fun to watch, as the experienced competitor has amassed a loyal fan following who love to watch him take on riders who are more than 10 years his junior.

That's why you could hear an audible gasp when Windham went down during the last race of the AMA Supercross series. Windham was doing well and was battling for the lead with James Stewart when both riders went down hard. Windham came up coughing up blood, and was rushed to the hospital as a result of his injuries.

With the start of the AMA Motocross season coming on the heels of the Supercross series, there was a serious doubt if Windham would be ready in time. The rider told Cycle News that he considered sitting out for all of the outdoor season and just focus on indoor racing for his career. However, he got a call from Honda that was too good to pass up. With Big Red's top riders, Trey Canard and Josh Grant, both going down to injury, Windham had the chance to fill in and ride a factory bike.

Windham told the news source that Honda was committed to keeping him around for the whole season if he's doing well in the points standings when it's time for Grant and Canard to return. Presumably the factory would then field three riders for the series.

In his first race, Windham finished fourth overall, so he could potentially be in the series for the long haul if he keeps up his form.