Kawasaki To Be Celebrated At "Vintage Motorcycle Days"
Chaparral Motorsports
|
May 16, 2011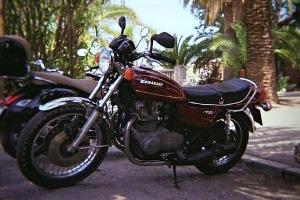 The American Motorcyclist Association (AMA) has announced that Kawasaki has been chosen as the "Marque of the Year" for the annual "Vintage Motorcycle Days" event, set to take place this year July 22-24 at the Mid-Ohio Sports Car Course.

Every year, the AMA celebrates a different brand by showcasing some vintage models from the brand's lineup, and this year is Kawasaki's turn. The Japanese manufacturer isn't the first that jumps to mind when one thinks of "historic," as it has a short history compared to some other brands. Yet Kawasaki has been in the U.S. for more than 45 years now and has designed some truly memorable models along the way.

"Kawasaki put the 'Good Times' in motorcycling from the very beginning, and has become a world icon," said AMA President and CEO Rob Dingman. "We are really pleased that attendees at AMA Vintage Motorcycle Days will see firsthand the company and the people that brought us incredible machines like the Samurai and Avenger models, then the Mach III triple and the 900cc Z-1, all the way to today's Ninjas, Concours 1400s and Vulcans

The event is open to everyone, but definitely bring your Kawi if you've got one. There will be special perks for loyal fans of Team Green, including preferred parking and the chance to take a lap around the track.