Indianapolis Plans To Repave Track For MotoGP
Chaparral Motorsports
|
April 29, 2011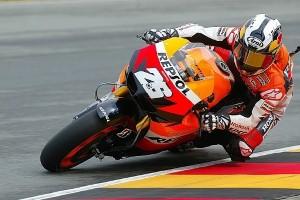 Indianapolis Motor Speedway has taken the concerns of MotoGP riders to heart, and has repaved a section of track that reportedly gave riders a lot of trouble over the past few years.

MotoGP has been racing in Indianapolis since 2008, but every year seems to be marred by criticism from the riders about the condition of the asphalt. What started as a few grumbles in 2008 slowly grew into cries of outrage in 2010, when riders demanded that the infield section of the road course be repaved. It couldn't be done in time for the race, so the riders had to contend with the bumpy surface.

However, the track has now announced that paving will commence on this portion of the track immediately following the Indianapolis 500, which is in its 100th year this year. The Indianapolis Grand Prix for MotoGP is scheduled to be held in the late summer.

Repsol Honda's Dani Pedrosa won at Indianapolis last year and told Cycle News that he was quite happy the track had taken the riders' criticism seriously.

"I really like this track and I always felt comfortable racing there; the layout is very different compared the European circuits and the facilities are amazing," he told the news source. "I'm happy to hear that Indy has decided to repave the infield section. To ride there will now be even better."