Caselli Places 3rd At Hare & Hound - Round 6
Chaparral Motorsports
|
April 25, 2011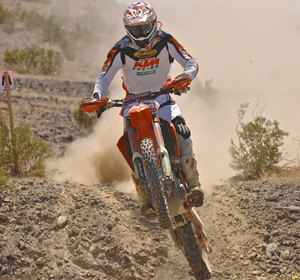 Factory FMF/KTM rider Kurt Caselli finished an impressive 3rd overall after a bad encounter with a cactus mid-race at the sixth round of the AMA National Hare and Hound Series in Lucerne Valley, CA.


Caselli got off to a great start and grabbed the early lead. He led the first loop and had an approximately one-minute lead at the start of the second and final loop.


Near the beginning of the final loop Caselli suffered a crash in some tight s-turns and fell directly onto a cactus. The needles poked through Caselli on his jersey, pants and most importantly his gloves. He spent a few seconds trying to remove the biggest needles from his hands before returning to action. By the time he recovered, Kendall Norman had passed Caselli for the lead.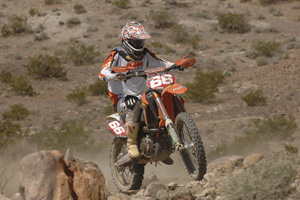 Caselli continued in a valiant effort to stay as close to Norman as he could. The needles in his hands continued to cause more pain as the race continued and he was unable to grip as much as he needed to which slowed his pace. He lost one more position to Jacob Argubright near the end of the race. When the checkered flag flew, he crossed the finish line in 3rd position to place ahead of his closest competitor David Pearson. After six rounds, Caselli remains the series point's leader.


"The Hare & Hound Series has been very demanding this year. We have raced through every kind of weather condition and today I had some bad luck and made contact with a cactus, giving myself another challenge. I am happy I was able to still finish on the podium and I am hoping to regain the top step when we head to Reno in two weeks," remarked Caselli after the race.


Next Event: Round 7 - May 8, 2011 - Reno, NV

Overall Results

1. Kendall Norman

2. Jacob Argubright

3. Kurt Caselli

4. David Pearson

5. Destry Abbott

6. Colton Udall

7. Justin Morrow

8. David Kamo

Robert Underwood

Chris Morrow

Overall Point Standings

Kurt Caselli - 157

David Pearson - 141

Destry Abbott - 125

Jacob Argubright - 121

Justin Morrow - 84