Brace Yourself: Safety And Comfort - Integrated
Chaparral Motorsports
|
April 21, 2011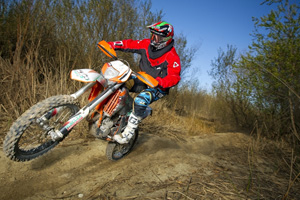 If you're jumping 100-foot triples, of course you're wearing one.
Long sections of deep whoops, it's a no brainer. Almost every Supercross rider wears a neck brace - mostly from Leatt, the industry marketshare leader.


But how about if you're keeping the wheels down on a wooded trail or cactus studded sand wash - where you also need to wear your hydration pack, a chest protector, a jacket? Are you going to wear a neck brace then?


Mis-fits

You wear helmet and goggles on every ride because the duo works so well together. Neck braces - until now - did not coordinate well with your chest protector or even your enduro jacket. So you've never worn a neck brace on a trail ride, even though you know the value of this protective equipment in helping prevent neck injuries.


Dr. Chris Leatt invented the Leatt Brace, the one chosen by more SX and MX riders than any other neck brace. Leatt Corporation knew that far more people ride and race off-road than race SX, and that these riders were most often riding unprotected because a neck brace didn't work well under a jacket, and was a poor fit over a chest protector. So the company recently introduced a line of products that integrates as well with each other as helmets do with goggles.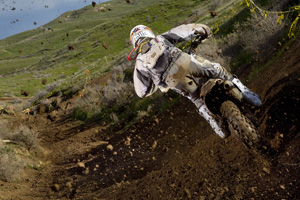 Integration

"We need to do a better job of protecting more people," said Phil Davy, General Manager of Leatt Corporation, USA.


An off-road racer himself, Davy and his son have even taken to South American adventure rides. Davy doesn't want to get injured on any ride, but especially not in Bolivia. He also wants to ride in comfort, that means a weatherproof jacket is a must, as is a chest protector and a hydration pack. That experience helped Leatt develop the Adventure Chest Protector and GPX Adventure Jacket to integrate with the Leatt Brace product line. The Leatt Hydration Systems packs (two versions) were designed by Swedish company USWE to fit specifically with the Leatt Brace.


Is this just more product sales? "We've been working really hard," said Davy, "to bring a better level of protection to more riders." Call it what you like, but integrating these must-have safety items is simply a good idea.


"Only two products can potentially save a motorcyclist's life," said Davy. "A helmet and a neck brace." If you ride a dirt bike, you're covered on the helmet side. Take a closer look at Leatt's neck brace, plus these other products that are now integrated for safety, fit and comfort.

[mageProductLink sku="3007-05-0003-0240" title=""]
[/mageProductLink] [mageProductLink sku="3007-05-0003-0240" title=""] Adventure Chest Protector[/mageProductLink]

Some chest protectors fit "okay" with a Leatt neck brace. This one is designed to fit perfectly with your Leatt. Two models are available; the [mageProductLink sku="3007-05-0003-0242" title=""]Pro[/mageProductLink] has an upgraded back protector over the standard [mageProductLink sku="3007-05-0003-0240" title=""]Adventure[/mageProductLink]. Both versions feature small removable plates - front and rear - that give an even better fit with the Leatt neck brace. To keep this protector snug with the brace, elastic straps connect the two, yet still allow them to move independently. This chest protector is built to meet CE safety standards, and it can be work over or under a jersey.

[mageProductLink sku="3007-050003-0200" title=""]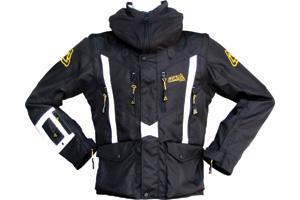 [/mageProductLink] [mageProductLink sku="3007-050003-0200" title=""]GPX Adventure Jacket[/mageProductLink]

Engineering a jacket to fit over a neck brace is nice. Giving that jacket all the qualities an off-road rider loves is amazing. This jacket has a water-resistant nylon shell, and it's also breathable. Because the seams are not completely sealed, the jacket is water-resistant, not waterproof. This jacket has plenty of ventilation zippers, plus removable sleeves. Small holes high and up front are designed for your hydration tubes. Shoulder and elbow pads fit inside special interior pockets. A waterproof, breathable cover stretches comfortably over the Leatt brace.

[mageProductLink sku="3007-070003-4001" title=""]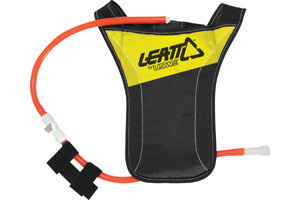 [/mageProductLink] [mageProductLink sku="3007-070003-4001" title=""] Leatt Hydration Systems (by USWE)[/mageProductLink]

The SP-1 hydration pack attaches directly to the rear "thoracic" member of any Leatt neck brace. The hydration tube connects with hook-and-loop closure to your helmet, and then routes directly inside for ever-ready liquids. This small pack holds a half-liter of your favorite riding drink. The H-2 pack - also designed to be worn with the Leatt brace - is an 82-ounce monster that you wear as a backpack. You could also wear this when not using your neck brace.