Brown Wins Cahuilla Creek WORCS Race - Caselli Finishes 2nd Overall
Chaparral Motorsports
|
April 19, 2011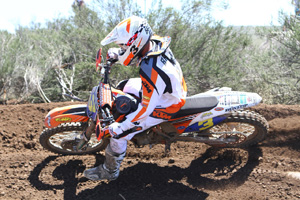 Factory FMF/KTM riders Mike Brown and Kurt Caselli topped the podium at the fourth round of the WORCS held at Cahuilla Creek MX Park in Anza, CA.


Brown and Caselli finished 1st and 2nd respectively during Saturday's 1 hour plus one lap moto. Both riders put together another solid performance for Sunday's moto with Caselli repeating his 2nd place finish and Brown finishing 3rd overall. Brown's 1-3 moto scores earned him the overall win for the weekend while Caselli's duplicate 2nd place finishes landed him in the runner up spot.


Brown nailed the holeshot in the second moto and led the first two laps before allowing Bobby Garrison and Ricky Dietrich to get by. He stuck on their tails for the next lap before he had a big get off in the off-road section. "I got all swapped out in the back and ended up going over the bars and rolling down a hill," commented Brown. "Luckily I wasn't hurt and my bike was okay but I definitely lost a lot of time."


Brown recovered from his crash in 5th position and spent the remainder of the race getting back into podium position. In the final lap of the race Brown and Justin Soule battled it out for the 3rd position. Brown edged out Soule for the position in the final few turns to earn 3rd overall and the victory for the weekend.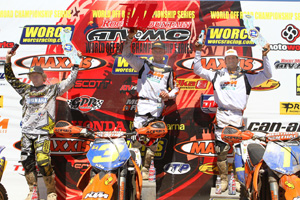 Caselli started Sunday's moto in 10th position and used the first three laps to work his way into the top five. Once in 5th it was apparent that Caselli was moving at a much faster pace than the group ahead of him and within the next lap he had jumped from 5th to 2nd overall where he remained for the remainder of the race.


"I felt really good today and was happy with my ride. I wish I could have had a better start but I was able to move up pretty quickly and am happy to be on the podium with my teammate," remarked Caselli.

Overall Results

1) Mike Brown (1-3)

2) Kurt Caselli (2-2)

3) Ricky Dietrich (4-1)

4) Justin Soule (3-4)

5) Taylor Robert (6-5)

6) Bobby Garrison (5-6)