Yates Sets Unofficial Electric Speed Record
Chaparral Motorsports
|
April 13, 2011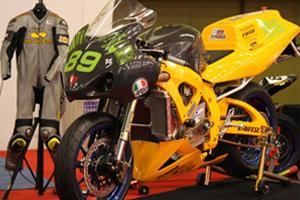 Chip Yates continues to garner attention with his monster of an electric motorcycle, which has already set several world records and impressed racing fans the world over. Yates' exploits this past weekend, however, may have been his best yet.

The bike, known as the Swigz Pro Racing electric motorcycle, uses a Gixxer chassis and high-end racing components such as Brembo brakes. Yates claims that the bike produces a monstrous 241 horsepower. With this incredible fully-electric machine at his disposal, Yates went to "The Mojave Mile," an event that sees riders head out to the desert in order to attempt to break land speed records.

As always, Yates talked a big game beforehand. By and large, he's backed up his talk in the past. For example, he claimed that the electric bike could beat gas-powered models, and he proved this by earning podiums in a top racing series. This time, Yates said he'd crack 200 miles per hour.

Things looked to be on track with the bike reportedly achieving 227 miles per hour in testing. But when the time came for the official run, Yates could only crank it up to 190.6 miles per hour, which is as of now the unofficial world record for a top speed on an electric motorcycle.

Yates will take another crack at the 200 miles per hour milestone when "The Mojave Mile" returns in October.