Dietrich To Race TT For Relentless Suzuki
Chaparral Motorsports
|
April 12, 2011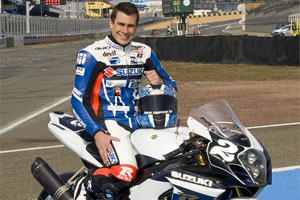 Former Le Mans 24-Hour winner Guillaume Dietrich will make his debut at the Isle of Man TT in June with 15-time TT winners Relentless Suzuki by TAS Racing.


The Frenchman has a long-term association with Suzuki and will be riding a GSX-R1000 in both Superbike races and also in the Superstock event alongside TT team-mate Guy Martin.


The German-born 28-year-old has ridden for the factory World Endurance Team (SERT) since 2002, winning the infamous Le Mans 24-Hour race in 2007 and 2008, plus the Bol d'Or 24-hour event last season. In total he has been on the podium at both events on eight occasions and has also been on the top step at the Albacete 6-hour and finished second at the Spa 24-Hour race.


Dietrich started racing in 1997 and went on to win the French 125cc Aprilia Cup in the Millennium year and the 250cc version a year later, taking all seven wins in the Championship. That earned him a spot with Equipe de France; the French Federation's official 250cc team who had previously run the likes of Olivier Jacque and Regis Laconi. He took third place in the 2001 250cc French Championship, also taking part in his first Grand Prix.


A year later he moved into the four-stroke classes and excelled from the outset. As well as the aforementioned World Endurance Championship successes, Dietrich is also a double-French Superbike (2007 and 2008) and Stocksport (2005 and 2006) Champion. He also achieved notable success as a World Superbike wildcard entrant at Magny Cours, finishing in 15th and 13th in 2007.

Philip Neill
Team Manager

"We are delighted to be running Guillaume at the 2011 TT Races, as we believe he has the talent to enjoy a very successful road racing career. His association with Suzuki at World Endurance level demonstrates his pedigree and you only have to look at his CV to realise his talent on a motorcycle. It's always positive to be associated with such a rider, and while we are not expecting big results from him in his first year at the TT, I do believe he will represent Suzuki, Relentless, and all our other sponsors in a positive manner."

Guillaume Dietrich:

"I'm very happy to be riding in the TT Races and also happy to be riding for the Relentless Suzuki by TAS Racing team. I'm a big fan of this race and of this team. My team-mate Guy Martin is a big star and I hope to learn a lot from him. For my career, it's a big corner and I'm excited about it."