Pedrosa's Injury More Serious Than Expected, Requires Surgery
Chaparral Motorsports
|
March 31, 2011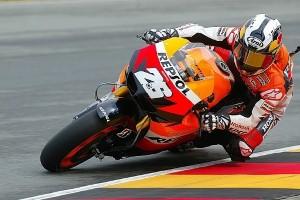 Dani Pedrosa's season could be over before it's even begun.

The Repsol Honda rider's injury, which was an aggravation of one suffered at the end of the 2010 MotoGP season, appears to be more serious than initially thought. Pedrosa's crash at the end of 2010 didn't really worry the rider too much - he was out of contention at that point and everyone assumed he'd have plenty of time to heal up for 2011. Yet in the closing stages of the opening race at Qatar, Pedrosa's injury began acting up. The rider complained of a loss of strength and feeling, which caused him to drop from second place to third.

Now, doctors are saying that there was actually a missed diagnosis with the original injury. Pedrosa broke his collarbone in two places, and doctors thought that was it. As it turns out, he also did damage to his subclavian artery, which can suddenly compress and cause the symptoms Pedrosa complained of.

The rider needs surgery, but he's scheduled it for after this weekend's race in Jerez. Historically, this is Pedrosa's best track, and if he has any hopes of a championship this year he'll need to ride well. The rider will then undergo surgery after the race and hope to be ready to go for the Estoril Grand Prix three weeks later.