Strang Wins FMF Steele Creek GNCC Race On Last Lap
Chaparral Motorsports
|
March 30, 2011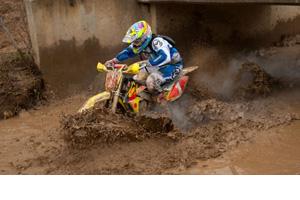 There's a reason that racing fans show up every weekend for motorsports events across the country. They know that anything can happen. That was certainly the case this past Sunday when a thrilling GNCC outdoor race at FMF Steele Creek came down to the last turn.

Charlie Mullins of KTM led the pack for most of the day, but Suzuki rider Josh Strang challenged him on the last lap, attempting to pass him on nearly every turn. Mullins was able to hold off Strang's advances, however, and appeared to have victory in the bag.

That is, until the very last turn of the race. The two riders went into the turn and Mullins simply fell down. It was a momentary collapse, but one that ultimately cost him the race. Strang reportedly looked stunned as he crossed the finish line, with the win giving him the top spot in the points standings as well.

"I got pretty lucky there when Charlie went down," Strang told Cycle News. "It was unfortunate for him but I'll take the win for sure."

Mullins told the news source that he was disappointed in himself and had never thrown a race away like that in his career. The rider was able to recover from the stumble and finish second overall.