Mullins And Buttrick Podium At Steele Creek GNCC
Chaparral Motorsports
|
March 28, 2011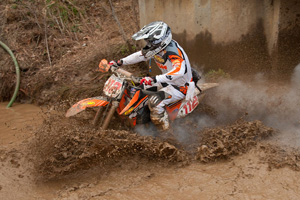 Factory FMF/KTM Team riders Charlie Mullins and Cory Buttrick landed on the podium at the third round of the GNCC Series in Morganton, NC.


Rain the night prior had made the course quite muddy as the riders lined the start of the Steele Creek GNCC. Both Mullins and Buttrick got off to a good start coming around the first corner in 2nd and 3rd position respectively. Two spots back was the third member of the team, Kailub Russell. Three-time National Enduro Champion, Russell Bobbitt, garnered a mid-pack start and began his charge toward the top ten.


Early leader, Josh Strang, led the first lap before being passed by Mullins quickly after the first lap mark. Mullins led the next four laps of the race with Strang close behind. Mullins pit quickly on the fourth lap and maintained his lead. On the fifth lap he was passed briefly by Strang. Later that lap, Strang pit for the first time and Mullins was able to get back by. Strang popped out right behind Mullins after the pit and the two riders began a major battle for the remaining two laps. "We were side by side throughout the majority of the race but those final two laps were so close. Anytime one of us made a mistake the other was right there to capitalize on it," remarked Mullins.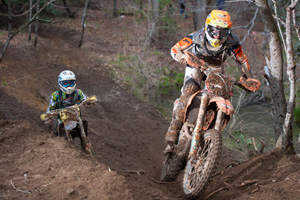 With only a few corners to go, Mullins still had a bike length lead on Strang. As they came around the second to last corner, Mullins had the hot line. Unfortunately, in the final corner Mullins washed the front end just feet from the finish line. Strang rode around Mullins to take the win while Mullins quickly recovered to finish 2nd.


"Charlie definitely had a great ride today and I know he was disappointed in his finish. It is these days that make you stronger for the next race and help you learn how to handle the pressure," stated Factory FMF/KTM Team Manager Antti Kallonen.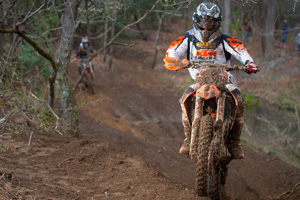 Finishing about a two minutes behind Mullins was his teammate Buttrick who had a strong ride to finish 3rd overall. Kailub Russell, who was as far back as 8th at the beginning of the race, moved his KTM through the pack as the race progressed to finish approximately 20 seconds behind Buttrick. Bobbitt and Nathan Kanney also put their KTM's into the top ten finishing 8th and 9th overall.


KTM riders also had success in the XC2 class where KTM support rider Brad Bakken finished 2nd while KTM privateer Andrew Delong finished 3rd. Podium regular, Steward Baylor had a mechanical problem and finished 5th.


In the Women's Pro class, reigning Champion, Maria Forsberg, took her second win of the season. This time the RPM/KTM rider won her race with a five minute lead over the next closest competitor.

Next Event: GNCC Round 4 - April 9-10, 2011 - Union, SC

Overall XC1 Class Results

1) Josh Strang

2) Charlie Mullins - KTM

3) Cory Buttrick - KTM

4) Kailub Russell - KTM

5) Paul Whibley

6) Simo Kirssi

7) Jimmy Jarrett

8) Russell Bobbitt - KTM

9) Nate Kanney - KTM

10) Mike Lafferty

Overall XC2 Class Results

1) Jason Thomas

2) Andrew Delong - KTM

3) Brad Bakken - KTM

4) Scott Watkins

5) Steward Baylor - KTM

6) Zackery Smith - KTM

7) Shane Obanion - KTM

8) AJ Stewart

9) Shane Hufford - KTM

10) Morgan Moss

Overall Point Standings XC1 Class

1) Josh Strang - 73

2) Charlie Mullins - 70

3) Paul Whibley - 58

4) Cory Buttrick - 54

5) Nathan Kanney - 44

Overall XC2 Class Point Standings

1) Jason Thomas - 76

2) Steward Baylor - 71

3) Andrew Delong - 58

4) Jesse Robinson - 58